Exclusive
Kate Gosselin's Sinister Twitter Stalker Has Been Plotting For At Least A Year!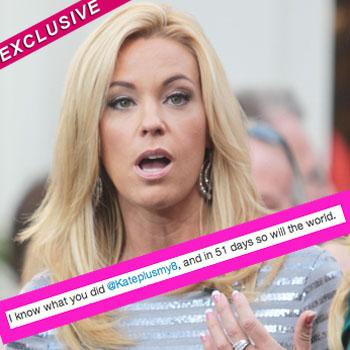 Article continues below advertisement
The Twitter handle links to a website and RadarOnline.com has learned the domain name was first registered in December 2010, and was renewed again in 2011.
The owner of the domain has gone to great lengths to hide their identity, registering it through Domains by Proxy, which is a private registration service designed to hide your identity.
The former Kate Plus 8 reality star uses the Twitter handle Kateplusmy8 and she communicates multiple times a day with her followers, fans and even her critics writing about her eight children and their lives.
The threatening messages began on April 26, 2012, and started with a countdown of when they will expose Kate's "immoral ways."
The latest warning was ominous and even referenced RadarOnline.com.
"I know what you did @Kateplusmy8, and in 51 days so will the world. @radar_online, @usweekly, @DiscoveryComm."
The Twitter account is not following anyone, including Kate Gosselin or RadarOnline.com, and they only have 47 followers themselves. The website that the Twitter account links to just has a countdown clock ominously lowering the numbers.