Kate Gosselin Blindsided By Jon's Plans To Head To Court Over Child Support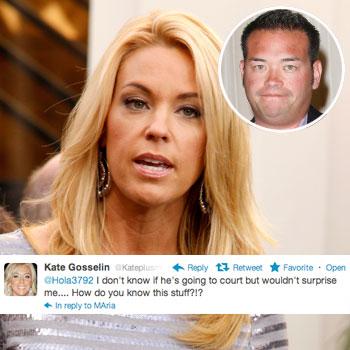 By Alexis Tereszcuk - Radar Entertainment Editor
Kate Gosselin was shocked by a legal move her ex-husband is about to make.
The Kate Plus 8 star found out from a Twitter follower that her ex, Jon Gosselin, is planning to head to court next week and she was blindsided by the news!
One of her followers wrote "Kate is it true Jon going to court next week for nonpayment of child support?" And the reality show star responded claiming ignorance of his move.
Article continues below advertisement
"I don't know if he's going to court but wouldn't surprise me.... How do you know this stuff?!?" Kate questioned.
She seemed shocked when the person wrote that their niece works in the Pennsylvania court system and saw their family file, then backtracked on any knowledge of his intentions.
The follower also tweeted that Jon's payments are "something like $1200 a month," which brought a response from Kate, "Woah....I'm not allowed to talk about orders from the court.…"