Another Day Another Twitter War! Kate Gosselin Bans Follower For Calling Her A 'Tranny'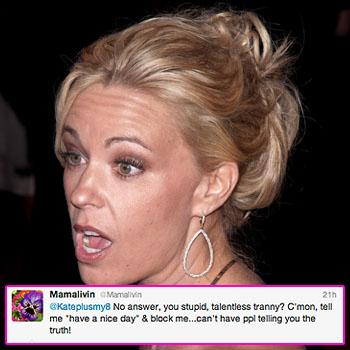 By Alexis Tereszcuk - Radar Entertainment Editor
Kate Gosselin can take a lot of heckling, but being called a "tranny" is one thing she won't tolerate. 
Famous for her Twitter fights, Kate banned a follower on Sunday after they wrote "No answer, you stupid, talentless tranny? C'mon, tell me 'have a nice day' & block me...can't have ppl telling you the truth!"
That was all it took for the Kate Plus 8 reality star to get rid of them!
Article continues below advertisement
"nope. Can't have people bullying, name calling, and telling UNTRUTHS... So, yes, you are now blocked," Kate wrote about the offensive Tweet.
The 37-year-old mother of eight just returned from a quick trip in Las Vegas, where she was spotted getting cozy with her bodyguard Steve Neild at the grand opening of Brad Garret's comedy club at the MGM Grand.
Kate recently battled with a Philadelphia reporter when he called Steve her boyfriend, slamming his version of their night out together at a charity event.