Jon Gosselin Celebrates 'Drama Free' Life, Says He Does NOT Miss Kate!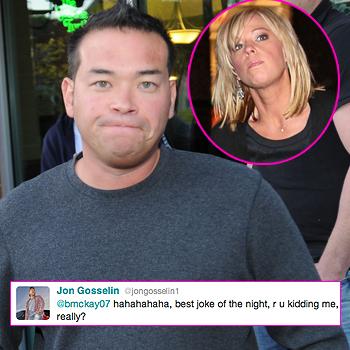 Article continues below advertisement
"Awesome day today, looking forward to the weekend. Long & interesting week, haha. so fortunate to live a simple life now! drama free," Jon Tweeted.
This post comes just days after Jon weighed in on a fight that Kate was having on Twitter with EM Tanner Designs. And hours after Kate slyly slammed him on Twitter, claiming there are lots of bad stories about him that she does not share with the world.
MORE ON:
Jon and Kate Plus 8
"if u knew what I know, u'd b AMAZED at my restraint! I don't say neg stuff oft, but wrong is wrong & It should not b rewarded!" Kate tweeted.
The former Jon & Kate Plus 8 stars have had a tumultuous relationship, including a bitter divorce and custody battle, and it doesn't seem like time has healed any of their wounds yet.
When a Twitter follower asked Jon if he and his ex-wife missed each other he had a swift response.