Kate Gosselin Threatened By A Mystery Tweeter, 'I Know What You Did'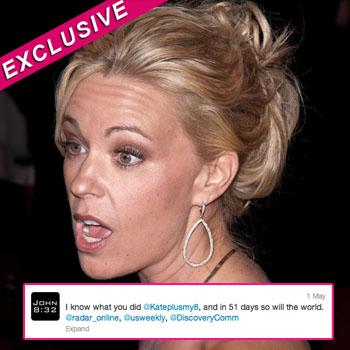 Article continues below advertisement
The messages began on April 26 with a countdown of when the antagonist will expose Kate's supposed "immoral ways." "56 more days Kate!! It's not too late to change your ways. Follow us for updates!"
The latest creepy comment on May 1 pointed out that time is running out, "I know what you did @Kateplusmy8, and in 51 days so will the world," and then tagged @radar_online to bring his or her intentions to our attention.
Clearly very familiar with the subject of their wrath, the Twitter stalker also mentions Kate's publicist in one obscure message. "Hi Julie Carson May! Can't wait 4 u to read about ur greatest creation! You must be so proud of yourself!"
In the New Testament of the bible, verse John 8:32 reads: "Then you will know the truth, and the truth will set you free," supporting the fear that someone out there wants to expose Kate's deepest, darkest secrets on the judgment day of June 21.
Article continues below advertisement
As RadarOnline.com previously reported, the mother-of-eight is currently embroiled in a legal battle with ex-husband Jon Gosselin, who owes $3557.06 in child support payments. Kate seemed blindsided by the fact that Jon was going to go back to court for non-payment of child support after a Twitter follower alerted her last month.
However, his financial woes aren't stopping Jon from finding a new love, as Star magazine exclusively reported on Wednesday that he has been dating girlfriend Liz for the past four months.