Pregnant Kourtney Kardashian And Mason Head To NYC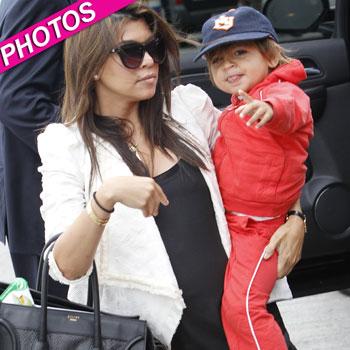 Kourtney Kardashian is heavily pregnant with her second child but she had an additional load to carry today as she carted her two-year-old son Mason into LAX on Saturday.
The busy momma-to-be was en route to New York City to meet up with boyfriend and baby daddy Scott Disick who is there along with the entire Kardashian clan.
She hoisted up the heavy toddler in one hand while carrying a large bag in the other.
Article continues below advertisement
Kourtney's trip will be business and pleasure as she will be helping launch the new Kardashian Kollection home bedding at Sears with her sisters Kim and Khloé.
"NYC to meet up with my fams! Deep breath and lots of prayers for a non-claustrophobic experience. Everyone back up and give me some space!" she tweeted before getting on board.
Kourtney turned 33 this week and celebrated early with a family trip to Mexico.