Newlywed Eccentric Billionaire Duchess Of Alba Shows Off Her Boy Toy Hubby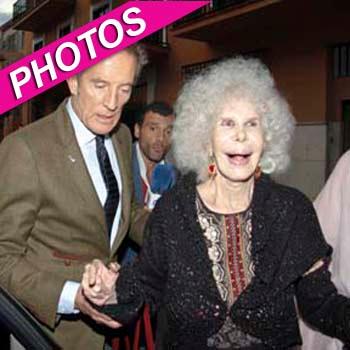 Married life is definitely agreeing with the eccentric Duchess of Alba, who displayed a youthful glow in Seville, Spain on Wednesday, and RadarOnline.com has all the photos of her day out.
Dressed in a stylish black jacket, embroidered blouse and pattered tights, the 85-year-old billionaire member of the Spanish royal family had a lively spring in her step as she walked arm-in-arm with her boy toy husband, Alfonso Diez, 61.
Article continues below advertisement
As RadarOnline.com previously reported, the Duchess, also known as Maria del Rosario Cayetana Alfonso Victoria Eugenia Francisca Fitz-James Stuart y Silva, walked down the aisle for the third time last month to tie the knot with the civil servant who is 24 years her junior.
The wedding took place at the Duchess' opulent 15th-century residence, the Palacio de las Duenas in the cobble-stoned old quarter of Seville, and the bride couldn't stop dancing all night!
PHOTOS: Sexy, Stunning And Shocking Fashions From The Royal Wedding
The huge age gap and even bigger difference in finances between the pair ruffled so many feathers among the Duchess' family that she divided her fortune between her children and grandchildren before the wedding.
She also made Diez, who works as a civil servant in the department of security, sign a legal document renouncing any claim to her wealth after they tied the knot.
Article continues below advertisement
The blushing bride holds the record for the most aristocratic titles, possessing at least 44 noble titles and 150 hereditary ones, is one of Europe's wealthiest aristocrats and worth an estimated $4 billion.
As head of the 539-year-old House of Alba, her privileges include not having to kneel before the Pope and the right to ride on horseback into Seville cathedral.
RELATED STORIES:
Eccentric Billionairess The Duchess Of Alba Marries Toy Boy Husband 24 Years Her Junior