World's Smallest Girl Starts School: 'She Looks Like A Doll But Made Of Strong Stuff'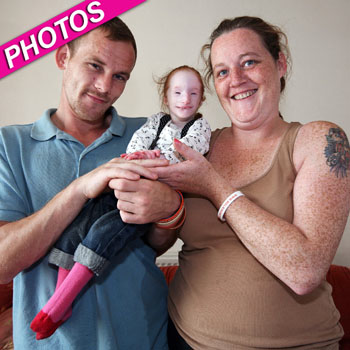 By Debbie Emery - RadarOnline.com Reporter
At just 27 inches tall and weighing nine pounds, Charlotte Garside was tiny enough to fit inside most of her classmates' backpacks on their first day of school last week.
The five-year-old from East Yorkshire, England, has been named the world's smallest girl, but that didn't stop her from walking tall on the milestone day, reported the Huffington Post UK.
Charlotte was born with a form of Primordial Dwarfism so rare that the doctors don't have a name for it, and many believed that she wouldn't even survive past the age of one, but she defied the odds.
Article continues below advertisement
With her mop of bright red hair and doll-like features, the school girl is boisterous and inquisitive at heart despite only currently being the size of a newborn and smaller than her favorite teddy bear, say her proud parents, Scott Garside and Emma Newman.
"Although Charlotte is a one in a million baby with some health problems, she is not the sort of person who will fade into the background," gushed her mom, who revealed she was a little worried that she might get bullied by the larger kids. "She may be small but she has a massive personality and wants to do everything a normal five-year-old does."
According to big sisters Chloe, 15, Sabrina, 12, and Sophie, 8, their little sibling is a force to be reckoned with in the family home and can easily stand up for herself.
"She might look like a doll but she's made of strong stuff. She loves tearing around the house and being thrown in the air," explained Chloe. "When people first meet her they are afraid she might break if they touch her - but she's quite scrappy and doesn't sit still for a second."
Article continues below advertisement
When she was born weighing in at just two pounds, Charlotte was so teeny that she had to be dressed in doll's clothes and Emma would carry her around in the front pocket of her hoodie like a kangaroo. Now five years later, at just nine pounds she is still out-weighed by the family cat!
Along with her growth restrictions, she was also born with a weakened immune system, cysts on her liver and delayed mental developments, but rather than sheltering her, Scott and Emma believe its better to thrust her out into the world.