Gigantism Woman Stops Growing For The First Time In Ten Years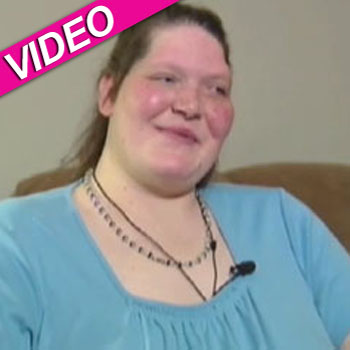 A woman who has one of the world's worst cases of gigantism has stopped growing for the first in more than a decade, RadarOnline.com is reporting.
At 21, Tanya Angus was 5 feet 8 inches tall and a slender 130 pounds. But within a year she had grown three inches and in 2002 she was diagnosed with acromegaly – more commonly known as gigantism.
Today she is 7 feet tall and weighs a staggering 400 pounds.
Article continues below advertisement
For years, despite three surgeries and radiation treatments, Tanya's health worsened and she became the only gigantism patient whose growth could not be stopped.
But this month, for the first time in 10 years the 33-year-old has stopped growing after her mom spearheaded experimental doses in her medication.
Tanya, who could barely walk because of her size, told ABC News: "This is such good news."
Caused by a non-cancerous tumor on the pituitary gland, gigantism is a disease that affects just 20,000 people in the US. and it can be life-threatening.
A couple of years ago, Tanya said, "I live every day in pain that's excruciating."
She could only get relief in a swimming pool, saying: "This is the only place, the only time I feel no pain. It feels so liberating."
"My heart's enlarged," she has said, facing her plight wiht amazing courage. "Everything in my body is enlarged…Sometimes, yeah, I get really down about it. But to me the most important thing is that I have to tell the people."
Article continues below advertisement
Now the news is exciting for both Tanya and her family. At one point she was taking up to 20 pills a day.
"For the first time ever Tanya's blood level for her disease has fit in the normal range," Tanya's mom, Karen Strutynski, says.
If a secondary blood test confirms the results, Tanya can plan for a de-bulking surgery.
You can read more about Tanya on her website.