Scientology Turned Isabella And Connor Cruise Against Mom Nicole Kidman, Claims New Report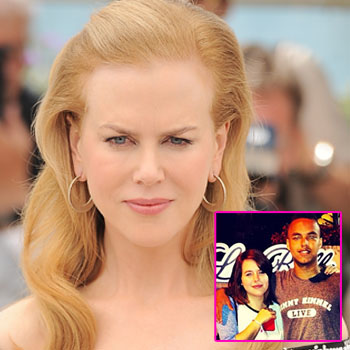 Scientology turned Isabella and Connor Cruise against their mother, Nicole Kidman, following her split from their father, Tom Cruise, in 2001, according to a bombshell new report in Vanity Fair.
Isabella was just 8 and Connor 6 when Tom and Nicole divorced after 11 years together, and both lived with their father following the split. As RadarOnline.com previously reported, Isabella opened up earlier this year about their fractured relationship and shared that after not appearing publicly with her mother for several years, and Kidman admitting in a 2007 interview that her children refused to call her anything but Nicole, the two are now on good terms.
Article continues below advertisement
"I love mom," she gushed to New Idea magazine. "She's my mom. She's great. I see her sometimes in Nashville and I speak to her."
According to the shocking new report, Tom's two eldest kids were "instructed" by Scientology elders to reject their mother after she was branded a "Suppressive Person" following her departure from the Church.
"The central problem in the marriage was Nicole did not want to deal with Scientology," former Scientologist Marty Rathbun tells Vanity Fair.
Another former Scientologist, John Brousseau, backs up the claim, telling the magazine: "They rejected Nicole -- they'd been instructed.
"They took a course, P.T.S./S.P., Potential Trouble Source/Suppressive Person, for persons connected in their lives who are an S.P.
Brousseau goes on to tell Vanity Fair: "Bella and Connor whispered to me, 'J.B., Nicole is an S.P.! Our mom's an S.P. -- we hate going and seeing her.'"
Article continues below advertisement
"The Scientology world hated Nicole," Brousseau, who left the Church in 2010 after 32 years in the controversial organization, goes on to claim. "People in Sea Org were mandated to see every freaking Tom Cruise movie that came out. But if you ever mentioned an inkling to see a movie with Nicole, oh my God, you'd hear about it."
The Church of Scientology has vehemently denied that Kidman was ever considered a "S.P" and has branded the Vanity Fair article as "hogwash."
This is not the first time Rathburn has made accusations that the Church turned Nicole's kids against her. As RadarOnline.com previously reported, he claims he once saw a Celebrity Center member giving "false information" to Bella and Connor and said he told them their mother is a "sociopath."
"Redacted told them over and over again their mother was a sociopath, and after a while they believed him," Rathbun previously told The Hollywood Reporter.