Tom Cruise: How Scientology Recruited Girlfriends For Him Before Katie Holmes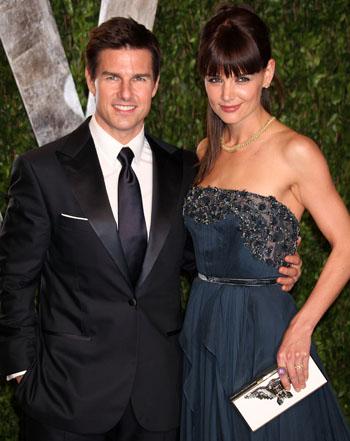 Katie Holmes was not the first of Tom Cruise's girlfriends to be recruited by Scientology, an upcoming cover story in Vanity Fair.
None other than Shelly Miscavige, the wife of Scientology leader David Miscavige, headed up the task of finding Tom an appropriate mate, writes the mag's award-winning Maureen Orth. Candidates were told they were auditioning for a new training film and were asked a series of questions including "What do you think of Tom Cruise?"
Article continues below advertisement
Iranian-born actress and longtime Scientology follower Nazanin Boniadi was the winner in the girlfriend derby, writes Orth, and went on to date Cruise from November, 2004 to January, 2005.
Boniadi had to sign multiple confidentiality agreements and ended up falling head over heels for Cruise. But in short order, he decided she wasn't up to the task, sources told Orth, and complained to her, "I get more love from an extra than I get from you."
Boniadi was then subjected to daily sessions -- two to three hours each -- of purging herself of "negative thoughts about Tom," reports Orth. "She felt completely shut off; her only source of money was a credit card issued in the name of Cruise's production company."
Eventually Boniadi was sent off to a Scientology center in Florida, and the process began again.
In April, 2005, Tom debuted Katie Holmes as his new girlfriend.
Article continues below advertisement
The article also claims that Holmes's pre-nup agreement with Cruise, negotiated by her attorney father, filled five Bankers Boxes, and that one of Martin Holmes' primary concerns was keeping his daughter out of Scientology.
Reps for Scientology denied just about every major aspect of the article and dismissed Orth's sources as "disgruntled" former Scientology members.
Shelly Miscavige, the woman who Orth says brought Boniadi and Cruise together and is believed to have engineered his subsequent meeting with Holmes, has been missing since 2007.