Tom Cruise Scientology Wife Recruitment Scandal Confirmed By Director Paul Haggis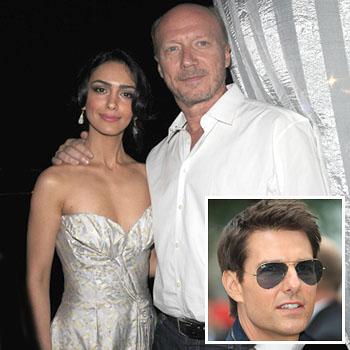 Paul Haggis, the acclaimed writer/producer/director who left Scientology in 2010 after decades in the controversial organization, has come forward with a strong confirmation of the blockbuster magazine article about how a new wife was recruited for Tom Cruise.
The Oscar-winner pulled no punches in condemning Scientology officials for how they treated actress Nazanin Boniadi after her arranged romance with Cruise failed after three months.
Article continues below advertisement
As we reported, in November 2004, devout Scientolgist Boniadi was recruited to audition for what she thought was a Scientology training film. It turned out she was being auditioned to be Tom's next wife, sources told Vanity Fair magazine's Maureen Orth.
Boniadi ended up falling for the Mission: Impossible star but after three months he decided she wasn't the girl for him, Orth writes, so she was sent to a Florida Scientology center where her assignments including cleaning toilets with a toothbrush.
But worse was to come for Boniadi when she confided to a friend how upset she was about her break-up with Tom. That "friend" reported her back to Scientology who accused her of breaking her confidentiality agreement with Tom, and ordered even harsher treatment for the Iranian-born beauty.
The search for a wife then resumed, sources told Orth, with Katie Holmes getting the nod.
"I was deeply disturbed by how the highest ranking members of a church could so easily justify using one of their members; how they so callously punished Boniadi and then so effectively silenced her when it was done. It wasn't just the threats; they actually made her feel ashamed, when all she had been was human and trusting," Haggis told Showbiz 411.
Article continues below advertisement
"I've met quite a number of people who have been treated shamefully but are afraid to speak out...Most of the others are just ordinary people...They live in fear of retribution, legal, financial or personal...They fear an incredibly wealthy organization that boasts that it seeks truth, empowers people, brings families together, encourages independent thought and free speech, and champions human rights. I would like to say that i don't know how its members, many of them good and intelligent people, can remain so purposely blind when they are faced with evidence like this every day, but then I am no one to talk. I was happily blind for many years, so I know the shame that Naz feels."