Robert Pattinson Jokes About Finding Himself In The Middle Of A Gay Sex Raid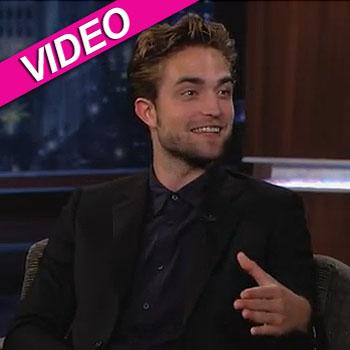 Robert Pattinson, promoting his new film Cosmopolis on Jimmy Kimmel Wednesday, opened up about his current digs (or lack thereof), as well as an interesting experience he recently had on a bicycle ride through Los Angeles.
Kimmel said he remembered the last time he spoke with Pattinson, the A-list vampire was living out of a suitcase, going from from hotel-to-hotel.
Asked if he's still "homeless," Pattinson -- who recently departed the Los Angeles mansion he shared with estranged lover Kristen Stewart -- said, "I still am … no, I rented this archway, and I just live behind it -- in one of those trash cans."
Article continues below advertisement
Pattinson then shared an interesting story involving a bike ride near the Los Angeles River.
"I used to turn up at this parking lot looking at everyone like, 'Why are all these guys sittin' around in their cars all the time?'" the hunky Remember Me star, 26, recalled. "And I'm goin' there everyday kinda thinkin' nothing of it, coming out in my little Lycra pants, and one day there was a big raid."
It turns out the place was a hot-spot for a practice known as "Dogging," an English term for engaging in sexual acts in a public or semi-public place or watching others doing so.