Sorry Twi-Hards! Kristen Stewart And Robert Pattinson Opt Out Of Final Twilight Conventions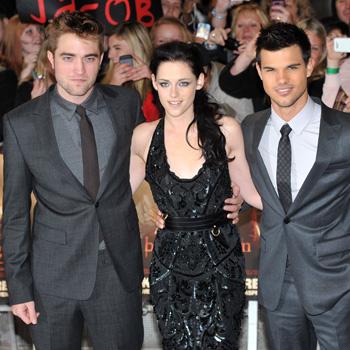 Kristen Stewart's affair with married director Rupert Sanders continues to have a domino effect and ardent Twilight fans will now be affected by it.
The movie's producers have announced neither she nor Robert Pattinson will attend any of the final four conventions to celebrate the ending of the hit vampire movie franchise.
Fans had hoped the former pair would attend separate conventions but that's not in the cards, and Taylor Lautner has also opted out.
Article continues below advertisement
"The passion and dedication of Twilight fandom has been amazing and we're out to throw one last giant convention, a final gathering to see old friends that have made up the Twilight family," a statement from Creation Entertainment says.
"Although Rob, Kristen and Taylor will not be with us this time out we will have a super line-up of other Twilight stars and the weekend will be filled with special events, movie prop and costume displays, contests, panels, auctions, parties, exclusive merchandise, music and much more, including some surprises!"
PHOTO: Kristen Stewart Poses In Drag For Elle
The events are happening on August 25 in San Antonio, September 29 in Detroit, October 5 in Parsippany, N.J. or November 3 in Los Angeles.
Fans will get to see Jennie Garth's estranged husband Peter Facinelli in LA. Booboo Stewart, Charlie Bewley and Alex Meraz will be in attendance in some of the other cities.
The Twilight Saga: Breaking Dawn - Part 2 opens November 16.