'Kristen Stewart Is A Trampire' T-Shirts Now On Sale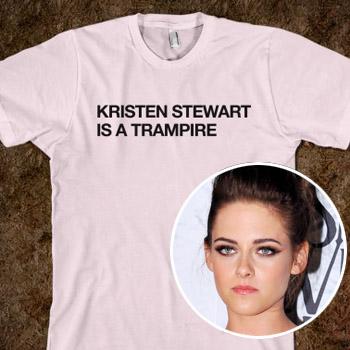 Well it was only a matter of time before someone started cashing in on the whole Kristen Stewart cheating scandal.
A custom T-shirt company has gotten in on the act and started selling tops with 'Kristen Stewart Is A Trampire' emblazoned across it.
That is one of the kinder motifs that Skreened.com has on offer with other slogans too vulgar to publish here on RadarOnline.com.
K-Stew's new "trampire" moniker is courtesy of comedic actor Will Ferrell who appeared on Conan earlier this month and broke down in a hilarious spoof about how devastated he was by Kristen and Rob Pattinson splitting after she had an affair with married director Rupert Sanders.
Article continues below advertisement