Rob Pattison Still Refuses To Talk About Kristen Stewart!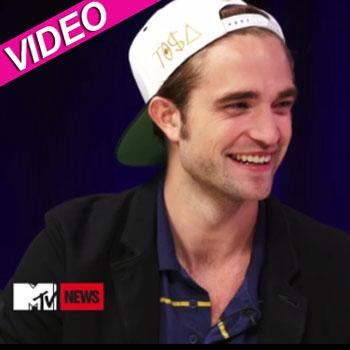 By Alexis Tereszcuk - Radar Entertainment Editor
Rob Pattinson has done another interview for his new movie where he expertly managed to avoid even saying Kristen Stewart's  name, despite their cheating scandal being thetopic everyone wants to hear about.
Rob did a 30 minute interview with MTV First Thursday where he awkwardly laughed and talked about his haircut, accent, Twilight and even a sex scene, but he didn't once mention Kristen, who was caught in a series of tawdry pictures hooking up with Rupert Sanders, the married director of her movie, Snow White and the Huntsman.
Article continues below advertisement
Once again, he avoided talking about Kristen and joked on MTV that it wasn't going to be a Dr. Phil or Oprah type of interview.
"You want to get tears, you gotta give the big bucks," he told Josh Horowitz.
Rob revealed that he felt like it was a "gift" to be starring in Cosmopolis, oddly saying "It's a relief not to get sh*t on."
He said that while filming the sex scene he was "trying to…hide my belly."
Rob said that he was a little caught off guard about the scene.
"There's the mechanics of the sex scene," he described. "Where does it climax? You're trying to figure that out," Rob says. "There are six pages of dialogue. That was my idea, where to climax. I had the idea of climaxing and saying, 'Do you find this interesting?' That's a cool line."
So once again Rob avoiding talking about the one thing that everyone wants to hear from him – what he thinks about Kristen cheating on him and where their relationship stands now.