Robert Pattinson Forgets To Zip Up, But Stays Buttoned-Up About K-Stew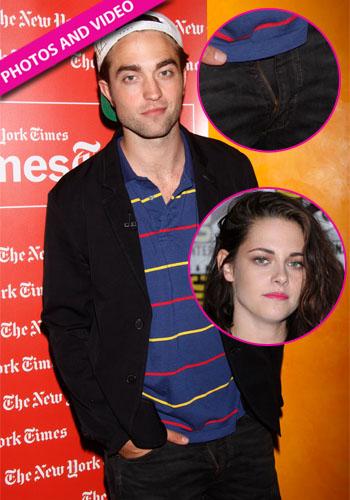 Robert Pattinson's had a lot on his mind lately, between promoting his new film Cosmopolis and laying low from the media following Kristen Stewart's cheating scandal; so you can forgive the A-lister for absentmindedly leaving his zipper down while attending TimesTalks Presents, a New York Times event held at The Times Center Wednesday night.
We've got the pics for you from the event, where the hunky English actor wore a striped polo shirt, black pants, a jacket and a backwards baseball cap.
Article continues below advertisement
Journalist David Carr was booed for bringing up Kristen, albeit in a creative way: comparing the Twilight co-stars to Prince Charles and the late Princess Diana, Carr asked Pattinson, "So if you and Kristen have trouble, it's like Charles and Di having trouble?"
Pattinson said the interest in his ongoings might be "because America really wants to have a royal family."
When Carr then asked directly about Kristen, Pattinson continued as he's been doing, filibustering with non-responses to avoid the awkward question.
"I wasn't really going there, just so you know," Carr told the actor, who replied, "No, I wouldn't go that far."
On Wednesday, Good Morning America's George Stephanopoulos asked Pattinson how he's been doing and what he wants his fans to know about his personal life.
The Remember Me star, 26, said he's "never been interested in selling his personal life and that's really the only reason people want to bring it up."
Article continues below advertisement