Rob Pattinson Stays Mum On Kristen Stewart, But Agrees (Sort Of) That Breaking Up Is 'End Of The World'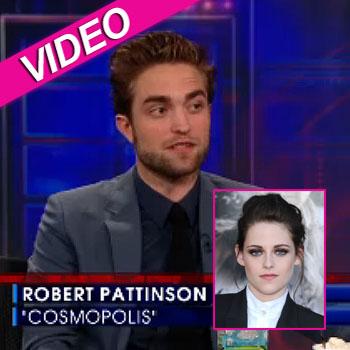 By Alexis Tereszcuk - Radar Entertainment Editor
is staying mum on his breakup with Kristen Stewart, who cheated on him with her Snow White and the Huntsman director Rupert Sanders.
The British actor was in New York for the premiere of his new movie Cosmopolis on Monday and taped an episode of The Daily Show where host Jon Stewart didn't ask him any direct questions about the scandal.
at Rob, Jon brought out Ben & Jerry's ice cream and joked they were "just two gals," talking about their breakup.
Article continues below advertisement
When Jon said that for young people going through a breakup it sometimes feels like the end of the world, Rob seemed to agree without actually saying anything!
The Twilight star merely laughed his compliance and the interview quickly moved on to promoting his new movie.
As RadarOnline.com previously reported, Kristen was "very, very nervous," that she was going to get skewered on the show, but Rob and Jon definitely took the high road.
Rob has been hiding out at his Water for Elephants co-star Reese Witherspoon's house in Ojai, Calif. where he hit up a local bar recently, and his anger at Kristen is starting to thaw.
"Rob was super angry for the first couple of weeks," a source told RadarOnline.com. "Angry at Kristen for ruining what they had, angry at her for the public embarrassment. But he's starting to wind down and really think about what he's going to do regarding his relationship with Kristen. He goes back and forth."