'3 Golden Sisters' Take On Kristen Stewart Cheating Scandal In Hilarious Video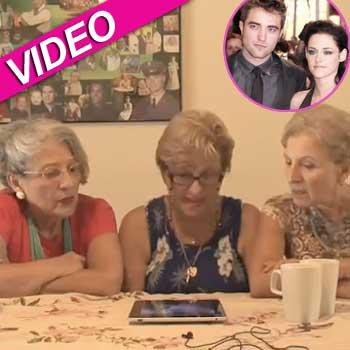 The 3 Golden Sisters are at it again and this time they're giving their take on the whole Kristen Stewart cheating scandal.
The senior citizens have become a YouTube sensation with their acidic commentary on current events in popular culture and couldn't resist digging into how the Twilight starlet could have dared cheat on boyfriend Robert Pattinson with a married fillmaker no less.
"What a horrible thing to do to a young man," one of the girls asked. "But that will make her more famous don't you know. And with the director's wife! The more corrupt you are the more famous you get."
Article continues below advertisement
"That's what Elizabeth Taylor did to Debbie Reynolds," another chimes in referencing when Eddie Fisher had an affair with the screen siren while married to Reynolds. "What a jacka*s he was!"
The three women are also aghast watching the hilarious video of a crazy Twilight fan sobbing her heart out over KPatz splitting up.
Everybody but Kristen and Robert -- you have to watch!