Stay Away Trampire! Liberty Ross Sends Clear Message To Kristen Stewart With Huge Crucifix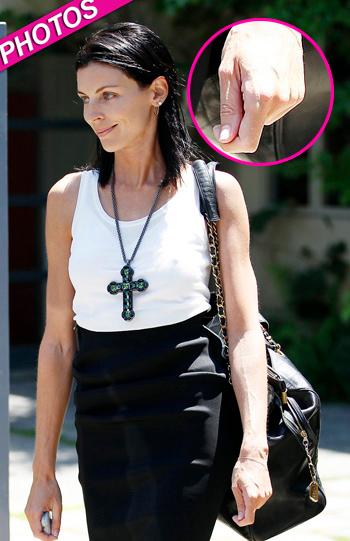 A crucifix a day, keeps the vampires – and the "trampires" – away!
Liberty Ross, the embittered wife of Rupert Sanders, who has kept tight-lipped since her husband's affair with Twilight star Kristen Stewart went public, headed to an office block that houses a divorce lawyer on Wednesday, dressed to the nines and wearing a rather large crucifix around her neck and no wedding ring on her finger – and RadarOnline.com has the photos.
Article continues below advertisement
The former fashion model and actress, who played Stewart's mom in Snow White and the Huntsman, stunned in a super stylish black and white ensemble as she left the Los Angeles home that she shared with her director husband.
Ross met with Sanders on Tuesday at Judy's Deli in Beverly Hills, with the estranged couple leaving in separate cars.
Stewart, who has played a mortal in the first few films in the Twilight Saga franchise, turned into a vampire in Breaking Dawn: Part 1, which makes her vulnerable to the popular crosses according to folklore – however, maybe Ross should have studied Stephanie Meyer's version of vampires. Not only are Twilight vampires fang-free, but they are not affected by the crucifix!
MORE ON:
hollywood happenings