Will Ferrell Breaks Down: Kristen Stewart Is A Trampire!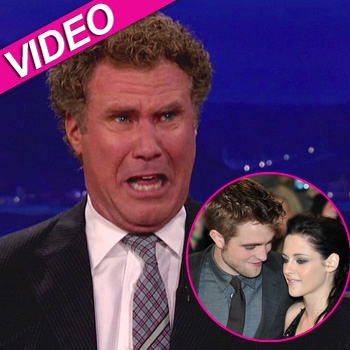 Article continues below advertisement
Even though Kristen's indiscretions were with her Snow White and the Huntsman director Rupert Sanders, Will was more focused on the future of the Twilight franchise that Kristen and Rob star in together.
"They're broken up and they're not going to get back together, ever. And what they had was so special, Conan! You don't even know what they had! They were in love and she just threw it all away," he said.
"I don't know if there was anything I could have done to have prevented it. I don't know what it means to the Twilight franchise, I don't know!"
Will's skit is a spoof playing off British superfan Emma Clark, who uploaded a nearly 4-minute YouTube video with a Chris Crocker quality in which she calls Kristen a "hussy."
But Will one-ups Emma.
"She is a trampire!" he screams.
"That's what she is!"
Watch the hilarious video below: