Exclusive
The Celebrity Games! Kristen Stewart Celebrating Beating 'Arch Rival' Jennifer Lawrence To Movie Role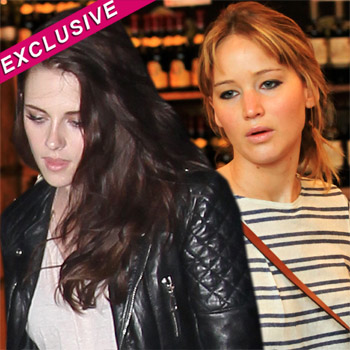 Article continues below advertisement
It's small consolation for the Twilight actress who has had a tough few weeks since pictures were published of her and her married Snow White and the Hunstman director Rupert Sanders in a series of compromising positions.
"Kristen is obviously down about what happened with her and Robert Pattinson – but she danced a jig of delight when she found out she beat Jennifer Lawrence to a movie role.
"She is insanely jealous of Jennifer – not just because she feels The Hunger Games has stolen some of Twilight's thunder – but because everyone was talking about her as such a beautiful actress.
"Kristen has never been comfortable in her own skin and feels threatened by Jennifer's good looks. And the thing with Jennifer is, she isn't just attractive, she's a talented actor.
"Jennifer's a threat to Kristen, she's only a year younger, so chances are they will continue to battle it out for the same movie roles.
"The pair of them are very competitive too - they won't give up any future roles without a fight," the source said.
Article continues below advertisement
As RadarOnline.com previously reported, Kristen beat Jennifer to the part of Peyton Loftis in hte movie version of the 1951 novel that tells the story about a dysfunctional Virginian family.
But it still isn't all good news for Kristen. She has been banished from attending Robert Pattinson's up and coming New York movie premiere on August 13.
Security staff have been told to keep K-Stew away from the red carpet and after party for the Cosmopolis premiere on August 13, in fear she may use it as an excuse to speak to R-Pattz in person.
The film's movie bosses are also wary of the media storm it would cause and don't want her appearance distracting the public from the movie.
Despite the fact Robert and Kristen have been communicating by cell phone, she will not be at the Cosmopolis New York Premiere," a source said.
PHOTO: Kristen Stewart Poses In Drag For Elle
"Security was briefed and they were told that Kristen is not allowed anywhere near the red carpet or the after party.
Article continues below advertisement
"The decision was made because Robert just doesn't want to see her. There were fears that she could use it as a chance to talk to him in person and that sort of drama is not wanted at the premiere.
"There's also the fact that if she did attend, it would distract from the film premiere itself and the movie bosses are not interested in that sort of publicity.
"It's going to be Robert's first public appearance since the scandal broke – and they really want to make it less of a media circus than it already will be," the source said.