Kristen Stewart & Rob Pattinson Back In Each Other's Arms: But It's Just For A Twilight Promo!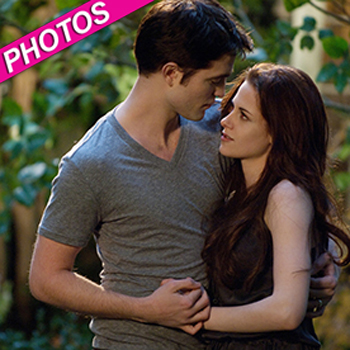 By Alexis Tereszcuk - Radar Entertainment Editor
Kristen Stewart and Rob Pattinson are finally back in each other's arms for the first time since news of her cheating scandal broke — but, sorry Twihards — it's just for a promo for the upcoming Breaking Dawn Part 2!
And, fans who are wishing for a reconciliation between the two will be sorely disappointed, as the pics were taken way before it was revealed Stewart had been cheating on Pattinson with her married Snow White and the Huntsman director.
Article continues below advertisement
Bella is finally a vampire and married to her beloved Edward Cullen in the final installment of The Twilight Saga: Breaking Dawn Part 2 and the new stills provided by Summit Entertainment continue the fantasy that they're together, at least for the film.
Rob has been awkwardly avoiding any questions about his relationship with Kristen on his media tour promoting his new movie Cosmopolis, laughing nervously when Jon Stewart suggested that splitting up "feels like the end of the world."
The photos of Kristen back in the arms of Rob will hopefully drum up excitement for the movie despite the estranged couple's real life relationship troubles , and the studio released a statement about their leading actors.
"While it is studio policy not to comment on the personal lives of actors, Summit is moving full steam ahead and looking forward to this November's opening of 'The Twilight Saga: Breaking Dawn: Part 2'" Nancy Kirkpatrick, the studio's president of worldwide marketing, told Entertainment Weekly.
Article continues below advertisement
The Twilight Saga: Breaking Dawn Part 2 hits theaters in November and fans are anxiously awaiting the return to the big screen of their favorite vampire couple.
RELATED STORIES:
'3 Golden Sisters' Take On Kristen Stewart Cheating Scandal In Hilarious Video
Kristen Stewart Is 'A Bag Of Nerves' As Robert Pattinson Gets Ready For TV Interview
Robert Pattinson Over His Anger, May Reconcile With Kristen Stewart