Robert Pattinson Walks First Red Carpet Since Kristen Stewart Cheating Scandal Erupted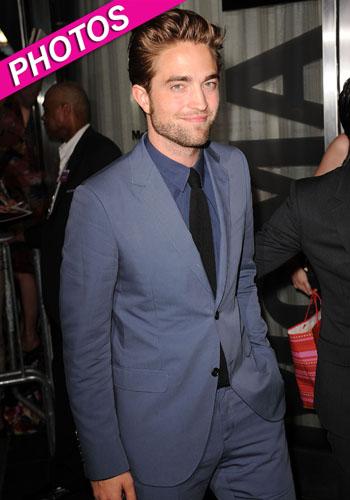 Robert Pattinson walked his first red carpet Monday night since news broke his girlfriend Kristen Stewart cheated on him with director Rupert Sanders, and we've got the pics for you right here on RadarOnline.com.
The Twilight hunk wore a grey Gucci suit for the New York premiere of his latest film Cosmopolis, though he would only address questions directly related to the film.
Pattinson told the New York Daily News he knew Cosmopolis -- decidedly-more edgy cinematic fare than the Twilight series that made him famous -- "would be different, but I didn't have anything to be scared of except failing."
Article continues below advertisement
Asked about the scandal, Cosmopolis director David Cronenberg told the paper that "it doesn't touch me, and it doesn't touch the film."
The paper reported that fans began camping along West 53rd Street on Saturday in hopes of getting a glimpse of the actor, who also appeared on Comedy Central's The Daily Show Monday.
As we previously reported, the 26-year-old actor has been laying low at pal Reese Witherspoon's $7 million Ojai, California ranch after Stewart fessed up to her affair with the married Sanders, her director in Snow White and the Huntsman.