Exclusive
Kristen Stewart Struggling To 'Forgive Herself' And Get Life Back On Track After Cheating Scandal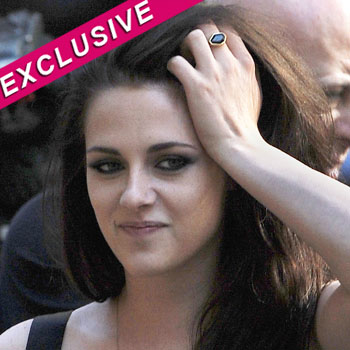 By Jon Boon - Radar Reporter
Kristen Stewart is still struggling to get her life back on track and "forgive herself" after splitting with Robert Pattinson following her embarrassing cheating scandal with her married Snow White and the Huntsman director, RadarOnline.com exclusively reports.
The 22-year-old star of the Twilight films has been spending her time out of the spotlight reflecting on her actions and turning to self help and enlightenment books in a bid to overcome her feelings of self loathing and regret.
Article continues below advertisement
"Kristen is trying to find some inner peace within herself," a source close to the actress revealed. "And she is reading a lot. She has always been interested in philosophy and spirituality and she has been reading a lot of different books. Strangely enough, the one author that has really been resonating with her is Gandhi, who she decided to find out more about after watching Eat, Pray Love.
"She began reading a biography of his life, then turned to Gandhi's own writing because she was seeking solace.
"The quote that particularly stands out for her is, 'The weak can never forgive. Forgiveness is the attribute of the strong.' While she doesn't know if Rob could forgive her, that statement has tempered her own regret.
"The remorse she has isn't completely gone, but Gandhi's words have certainly helped her find peace with the whole situation. Kristen isn't beating herself up over it, she's accepted that everyone makes mistakes and she has to learn from it," the source said.
Article continues below advertisement
As RadarOnline.com previously reported, both Kristen Stewart and Robert Pattinson are skipping the final four conventions celebrating the ending of the Twilight saga, according to the movie's producers.
"The passion and dedication of Twilight fandom has been amazing and we're out to throw one last giant convention, a final gathering to see old friends that have made up the Twilight family," a statement from Creation Entertainment said.
"Although Rob, Kristen and Taylor (Lautner) will not be with us this time out we will have a super line-up of other Twilight stars and the weekend will be filled with special events, movie prop and costume displays, contests, panels, auctions, parties, exclusive merchandise, music and much more, including some surprises!"
However, Kristen is expected to attend next month's Toronto Film Festival. She will go into full-promotional mode to sell her latest flick, On The Road but won't be addressing her cheating scandal any time soon.