'Over-Exposed' Kris Humphries Parties With Bikini Babes In Miami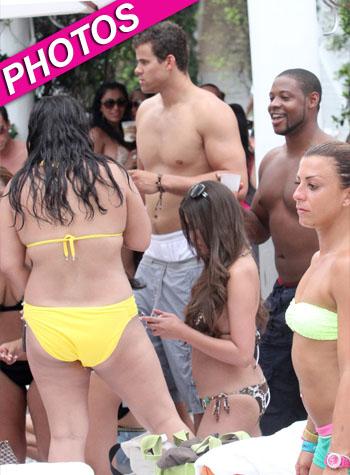 Kim Kardashian's ex Kris Humphries held court at a Miami get-together with plenty of bikini-clad beauties on Sunday and, RadarOnline.com has the pics for you.
The Brooklyn Nets player, 27, wore his grey shorts so low, most partygoers had a full view of his Calvin Klein briefs.
As we previously reported, the basketball player was at the center of controversy last week when reports sprouted he'd been kicked out of L.A. hotspot Beecher's Madhouse by Kelly Osbourne, who's good pals with Kim.
Article continues below advertisement
The NBA forward tweeted in response, "I never usually address garbage, but don't people think that saying I got kicked out of somewhere, when I was literally the last person to leave is a pretty stupid thing to lie about? Do people ever think that they will lose credibility when hundreds of people know what they are writing isn't true?"
The venue owner Jeff Beacher backed the Minnesota native up, writing, "@krishumphries you didn't get thrown out pal! You loo looked like you were having a great time to me!"
Kelly left it vague as to what happened with her version of events, writing: "Im creative director/business partners w/ @jeffbeacher Beachers Madhouse is OUR club so I have the right to let in or deny anyone!"
At least Humphries did get some good news last week, when his purported gal pal Myla Sinanaj denied she was pregnant with his baby, and furthermore, shot down reports that they had even dated.
Article continues below advertisement