Cheerleader Indicted For Having Sex With 16-Year-Old Student Says Victim Will Testify In Her Defense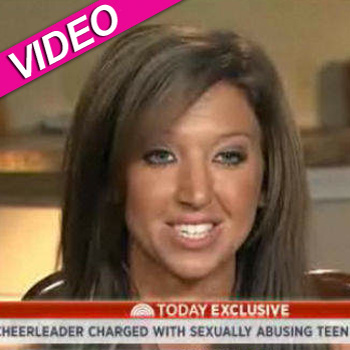 Article continues below advertisement
"I am taking it day-by-day, that's kind of how you have to get through these things. Sometimes I take it minute-by-minute," explained the 27-year-old cheerleading captain and English teacher who has been accused of sleeping with a 16-year-old football player at Dixie Heights High School.
As RadarOnline.com previously reported, Jones allegedly had sex with a 16-year-old high school football player four or five times at her apartment and exchanged numerous text messages with the student, three years after publicly becoming a spokesperson against online bullying.
Currently wearing an ankle bracelet that won't even let her walk as far as the mailbox without beeping, Jones said she tortures herself reading every single news article and every online post about her. "The biggest thing is when people attack my character without knowing the full story," she told TODAY in the interview that aired on Wednesday.
Sarah has pleaded not guilty, saying she has only had sex with one man - her ex-husband – but remained close-lipped when asked to reveal details of the rumored relationship with the minor. "At this time it is not something we are going to discuss but we are going to discuss it at trial," she said coyly.
Article continues below advertisement
The Ben-Gal even went on to argue that the accusations all came down to high school gossip. "It was actually from the alleged victim's ex-girlfriend," she said, and even though prosecutors will enter the trial with a whopping 9,000 pages of evidence - including text messages, Facebook posts, photos and call logs – she is still adamant that she is innocent.
"Just because there is evidence out there it does not mean that it is damaging or that it is going to be hurtful towards me," claimed Jones, saying that her alleged victim and his family are even going to take the stand on her side. "His parents are willing to testify in my defense, we are all going to testify."
Used to rallying the crowds even during the Bengal football team's most crushing defeats, Jones kept a brave face during the interview but admitted she was dying inside. "I call my parents on a regular basis and say 'Get me through this… what can I do to get through just this minute?'"
Her parents are more than just bystanders in the trial as mother, Cheryl Jones, the principal at Twenhofel Middle School in Independence, Kentucky, was indicted on a charge of tampering with physical evidence in her daughter's case but denies she tried to cover up the alleged affair. "It's devastating. Once a mom, always a mom," she told TODAY.
Article continues below advertisement
Trying to move on with her life, Sarah is now studying for the LSATs and her lawyer has hired her as his paralegal.
"I can't wait to get married and have kids and start a life, and that's the most devastating part – I can't imagine my kids getting on the Internet and seeing things about their mother like that," she said sadly.
The former Ben-Gal faces up to 10 years in prison if convicted of the sexual abuse charge, and due to the large volume of evidence, her trial has been moved to September at the earliest.