Grandmother Auditions To Be A Dallas Cowboys Cheerleader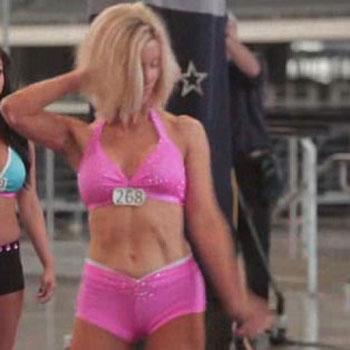 By Debbie Emery - RadarOnline.com Reporter
The Dallas Cowboys are famous for having the sexiest and hottest cheerleaders in the NFL, and one aspiring dancer isn't going to let her age – or her grandkids – get in the way of her dreams of joining the squad.
Sharon Simmons, age 55 of Carrollton, Texas, tried out at the first round of auditions for the squads last weekend, where she wasn't afraid to high kick alongside the agile 20-somethings that filled the room.
Article continues below advertisement
A workout fanatic and author of Triple F: Fifty, Fit, and Fabulous, Simmonds is old enough to be most of her rivals' mother and has two grandchildren of her own.
"I always wanted to try out," Simmons told CBS Dallas/Fort Worth when she was training for her tryout. "I got real close in my early 20s, but got busy raising my daughter. Why not now?
"On stage, I blend right in with women in their 20s, 30s and up," said the single mom, claiming that there was "absolutely no difference" between her body and those of the younger girls.
Dressed in a sparkly pink bra and hot pants that flaunted her sculpted six pack, Simmonds was cheered on by the bevy of tanned blondes when she introduced herself simply as a woman "loving my life."
The gorgeous grandma takes her body very seriously, having won nine first place titles on the competitive fitness circuit over the past five years.
"I don't see a number," Simmons told ABC News about her age. "It's not that I can't keep up with younger women in the physical part of the training."
Article continues below advertisement
Not only does she have the prospect of a glamorous new career cheering on quarterback Tony Romo and his teammates, Sharon has received three wedding proposals thanks to local news stories about her quest.
At 55, Simmonds is over a decade older than the Cincinnati Bengals cheerleader who is currently the oldest pom-pom waver in the NFL.
As RadarOnline.com previously reported, Laura Vikmanis, 42, is going to be subject of an upcoming biopic on her life story.