Life Story Of NFL's Oldest Cheerleader Laura Vikmanis To Hit The Big Screen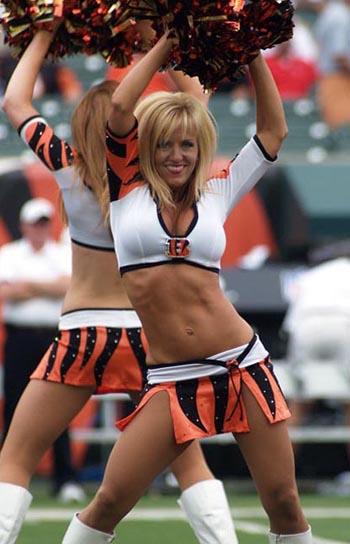 Cincinnati Bengals cheerleader Laura Vikmanis suddenly has a whole lot more to wave her pom-poms about!
The NFL's oldest cheerleader is going to have a movie made of her life story, RadarOnline.com has learned.
After finding fame on the sidelines of her favorite football team, Vikmanis will now be immortalized on the big screen after New Line Cinema picked up the rights to her life story, RadarOnline.com confirmed on Friday.
Article continues below advertisement
At 42, the mother of two teenagers is 20 years older than most of her fellow Ben-Gals squad but that doesn't stop her from back-flipping, jumping and hair-flicking with the girls half her age.
The upcoming as yet un-named film - which comes hot on the heels of Oscar-winning NFL biopic, The Blind Side - will be penned by Gnomeo and Juliet writers Emily Cook and Kathy Greenberg, according to The Hollywood Reporter.
"She is a 42-year-old in a sea of 20-year-olds; she's definitely a fish out of water. It's a great contrast. And she proved you can reinvent yourself at any age," Cook told the Hollywood Reporter.
Vikmanis, a registered dietitian and fitness fanatic, was almost 40 when she made the daring decision that she wanted to strip down to a tiger-striped cropped top and mini-skirt and kick up her heels on the Bengals football field after being inspired by the dancers while watching a game.
Article continues below advertisement
Missing the cut when she first tried out in 2008 made the Springboro, Ohio native even more determined to make the team and she trained obsessively for a year until she finally got picked.
With both daughters, Lila, 14, and Alexa, 12, in their school cheerleading squads, team spirit definitely runs in the family.
"I look at myself as a role model for my children to show them no matter what age or what dream you have, you can work really hard and achieve it," Vikmanis told her hometown newspaper, the Dayton Daily News.