Love On The 50-Yard Line, David Nelson Gives Ball To Cheerleader Girlfriend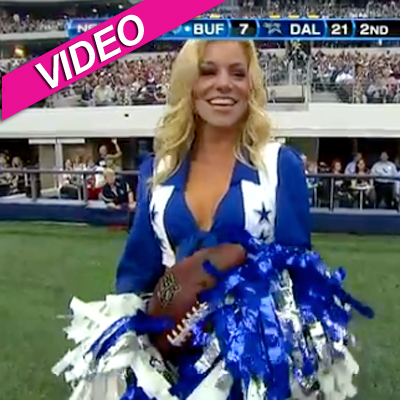 Despite his team getting a brutal beat-down on Sunday, Buffalo Bills player David Nelson was a winner in love after he ran across the field to give his girlfriend the football after he scored a touchdown.
The romantic gesture was made all the more unusual as sexy blonde Kelsi Reich is a cheerleader for the Dallas Cowboys, who ultimately hammered the Bills 44-7, reported CBSNews.com.
Dressed in the cropped top and skimpy shorts that make up the uniform of the NFL's most famous cheerleaders, Reich looked both shocked and embarrassed as Nelson jogged up to her with the special ball.
Article continues below advertisement
The Bills wide receiver made sure he celebrated with his teammates after he caught the three-yard touchdown pass before he went to the opposition side of the field to gift Kelsi.
"It was a special moment to share with her," Nelson, who is originally from Wichita Falls, Texas, said. "I didn't want it to be awkward."
The importance of the move didn't go unnoticed by his sweetheart, who tweeted after the game: "What a special day today was! I feel so blessed & so proud of @DavidNelson86! Thanks for my game ball, I wont let go of it :) happiest girl!"
Not everyone was so impressed by him crossing the lines, as many Bills fans dubbed him a traitor on Twitter.
"You embarrassed Buffalo and its fans by celebrating down 21-7 w that ... skit ... act like you care about the game!" wrote one NFL fanatic, while another tweeted, "You can showboat when ur up 30 points, not down 2 td's on the road."
Watch Nelson's romantic gesture below:
Paris Jackson Plays Football With Intensity
Paris Jackson Joins School's All-Boy Football Team