Denver Man Dreams Of Becoming The NFL's First Male Cheerleader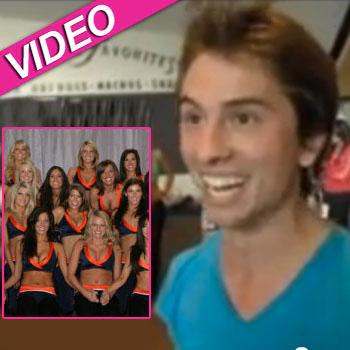 By Debbie Emery - RadarOnline.com Reporter
Quarterback Peyton Manning could have had the NFL's first male cheerleader rallying fans on the sidelines next season, but sadly Sacha Heppell didn't make the cut for a coveted spot on the Denver Broncos squad.
The amateur dancer, whose past work experience revolves around dancing on a street corner with a sign, joined 300 beautiful women in their bid to support their favorite football team at the tryouts held at Sports Authority Field at Mile High Stadium on Sunday, reported Denver.CBSLocal.com.
Article continues below advertisement
"It's huge, I'm excited. I am thrilled. No male has ever made it through auditions. I don't even know if a male made it to the auditions," gushed the Denver local as he strutted his stuff wildly, while dressed in a turquoise top and tight-fitted black pants.
"When I dance, I lose myself!" he revealed.
Broncos Cheerleaders Director Teresa Shear said the judges welcomed his enthusiasm to the open auditions, which allow anyone to try out.
"I think it's awesome, whatever you want to do, pursue your dreams," said one pretty female rival contestant fighting for a spot. "I trust the judges will pick the best members for the team," revealed another.
Unfortunately for Heppell, excitement and the desire to perform just wasn't enough to make his dreams come true, and his number wasn't called as one of the 60 to move on to the next round of auditions on April 22.
Article continues below advertisement
"I'm a little disappointed, I gave it all I got and I didn't make the cut," said the disappointed dancer, who refuses to give up. "I am going to continue to practice, practice, practice throughout this year, and I will be back next year."
While there are no male cheerleaders in the NFL, there are plenty of guys high-kicking and jumping during college and high school sporting competitions.
Former President George W. Bush was even a cheerleader for Phillips Academy in Andover, Massachusetts, when he was a high school senior there in 1963, so there is hope for Heppell yet – and maybe he'll even be president one day!