College Football Star Makes Teenage Cancer Patient's Dream Come True, Takes Her To The Prom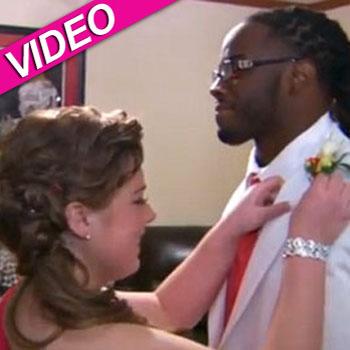 Getting ready to attend the prom is stressful enough for any high school student.
But for Courtney Alvis, 17, who has been battling leukaemia, it was extra worrying when leading up to the big night no one had invited her to be their date. However, college football star Trent Richardson came to her rescue and made the teen's dream come true.
Alvis had put on weight and lost much of her hair because of her cancer treatment and was not feeling her best, but when Trent heard about her story from a family friend he decided to take action and asked to be her date.
Article continues below advertisement
The heartwarming tale has an especially wonderful turn after Courtney was then chosen to be prom queen.
With just 13 days to go till the NFL draft, Trent turned up in a white suit, wielding a bouquet of flowers for the brave teen, to escort her to the school auditorium.
"I'm kind of nervous, I still have got to meet her parents," the 20-year-old told ESPN. "I've got to ask her parents, 'Can I take your daughter to the prom?'"
But Trent was greeted warmly by Courtney's family when he got to her home and got the thumbs up from her father to take his daughter out.
Courtney was diagnosed in November 2010 with acute T-cell leukaemia and had a growth that was crushing her right lung.
Although there is no cancer left in her bone marrow she is undergoing maintenance treatment and has to have monthly chemotherapy and take a slew of pills daily.
Article continues below advertisement
The pair had a great time at the prom and were videoed dancing and laughing together, which you can watch here on RadarOnline.com.
"People were surprised to see me here but I'm here to have fun with Courtney," Richardson said. "I did it out of my own heart. I'm lucky to be here with Courtney."
Giuliana & Bill Rancic Considering Adoption, Surrogacy In Desire To Have Children