Cheerleader Indicted For Allegedly Having Sex With A Student, 'Lied On National TV'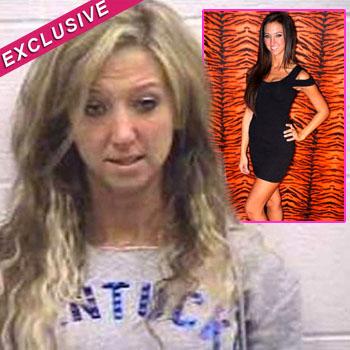 Article continues below advertisement
The 26-year-old Kentucky high school teacher was indicted on Thursday on charges of first-degree sexual abuse and unlawful use of electronic means to induce a minor to engage in sexual or other prohibited acts. The charges are felonies that are each punishable by up to five years in prison, reported Cincinnati.com.
Her mother, Cheryl Jones, the principal at Twenhofel Middle School in Independence, Kentucky, was indicted on a charge of tampering with physical evidence in her daughter's case.
The news of her arrest didn't come as any surprise to Nik Richie, of TheDirty.com, whose website was sued by Jones in 2009 after unflattering pictures of her that had been provided to the online gossip site anonymously appeared with allegations that she'd had sex with Bengals players and had two sexually transmitted diseases.
"I feel sorry for the Dixie Heights High School student and his family," Richie told RadarOnline.com in an exclusive interview on Friday. "Sarah Jones has now proved she is not an honest person and a terrible role model."
Article continues below advertisement
In the lawsuit, Jones claimed that TheDirty.com had ruined her reputation with their story, The Dirty Bengals Cheerleader, and even went on Anderson Cooper 360 talking about the unfairness of people like Richie getting to profit from publishing" terrible gossip" about people while hiding behind the shield of the Communications Decency Act (CDA).
"I worked my butt off to make sure I had a clean, great reputation and then it was ruined by one post," she also told 20/20. "I think I hit rock bottom when a student said she would never learn from a sl*t like me."
In January, a judge ruled that the suit alleging defamation and invasion of privacy could go to trial, and that TheDirty.com was not protected by the CDA, both sides were scheduled to face off in June.
"Sarah Jones lied on national TV and to major media about her character. Both CNN's Anderson Cooper and ABC 20/20's Chris Cuomo attacked me based on these lies," Richie revealed to RadarOnline.com.
"An apology from Anderson Cooper and Chris Cuomo and the Cincinnati Bengals to myself and the fans of TheDirty.com is warranted."
Article continues below advertisement
Jones, who is team captain of the NFL team's 'Ben-Gals' cheerleading squad, resigned on November 30 from Dixie Heights where she taught freshman English for five years. Her sudden departure was announced in a one-sentence letter that cited ""personal reasons."
Attorney Charles T. Lester Jr, who will be representing both Sarah and Cheryl Jones, released a statement that they will be pleading not guilty.
"Sarah has maintained her innocence. The indictment of her mother is completely baseless," said Lester.
The mother and daughter duo were booked into Kenton County jail on Thursday. Cash bonds were set at $50,000 for Sarah Jones and $30,000 for Cheryl Jones. The daughter and mother are scheduled to be arraigned April 2 before Kenton Circuit Judge Patricia Summe.
RELATED STORIES:
Parents Of Children Taught By Lewd Acts Teacher Are 'Angry At The School'