Cheerleader Who Allegedly Had Sex With A Student Is A 'Smart, Christian Girl,' Says Friend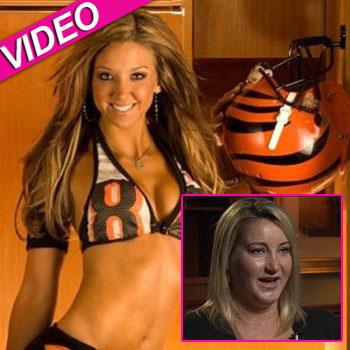 By Debbie Emery - RadarOnline.com Reporter
Cincinnati Bengals cheerleader Sarah Jones was indicted last month on charges of sleeping with one of her 16-year-old high school students, but despite the sex scandal friends of the teacher claim she's a "smart, Christian girl" at heart, who "loves her students."
Lindsay Vaughn, an ex-member of the NFL team's 'Ben-Gals' squad, stuck up for the former cheer captain in an interview with the TODAY show on Monday, where she claimed that Jones has been given a raw deal.
Article continues below advertisement
"Being a Ben-Gal is not just about the cheerleading outfit," said Vaughn tearfully. "I know you may see that, and that's something that is easy to hang onto in the news because it makes good headlines, but (Jones is) a real person.
"We're real people. We have families, we have careers. We represent ourselves in this community."
As RadarOnline.com previously reported, the 26-year-old Kentucky high school teacher allegedly had sex with a 16-year-old high school football player four or five times at her apartment and exchanged numerous text messages with the student.
Her mother, Cheryl Jones, the principal at Twenhofel Middle School in Independence, Kentucky, was indicted on a charge of tampering with physical evidence in her daughter's case.
Vaughn revealed that she found the allegations "terribly shocking," and they were a sharp contrast to the Sarah that she used to performs cheers with on the sidelines in Cincinnati's football stadium.
"She doesn't drink — doesn't party — probably totally opposite of what you think of when you think of an NFL glamorous, hot cheerleader," explained Lindsay, who described Jones as a "smart Christian girl" who is active in community projects and traveled to Iraq last year to entertain the troops.
Article continues below advertisement
"She's very down to earth - loves her students, loves teaching - just a great girl."
This is not the first time Jones has been catapulted into the spotlight for her sexual activity. In 2009, she sued website TheDirty.com and its founder Nik Richie after unflattering pictures of her, which had been provided to the online gossip site anonymously, appeared, along with allegations that she'd had sex with Bengals players and had two sexually transmitted diseases.
"I feel sorry for the Dixie Heights High School student and his family," Richie told RadarOnline.com in an exclusive interview after her recent arrest. "Sarah Jones has now proved she is not an honest person and a terrible role model."
"Sarah Jones lied on national TV and to major media about her character. Both CNN's Anderson Cooper and ABC 20/20's Chris Cuomo attacked me based on these lies," he said.
Article continues below advertisement
Vaughn believes the stress of the sex scandal and subsequent law suit, after which Sarah claims students called her a "s**t" in class, may have caused Sarah to emotionally unravel.
"It spiraled out of control very, very quickly, and I think that that's where her whole life has basically been turned around and changed," she told TODAY. "I mean, she's 26 years old... I can't imagine as a 26-year-old trying to recover from a situation like this."