Teacher Christopher Hooker Charged With Sex Crime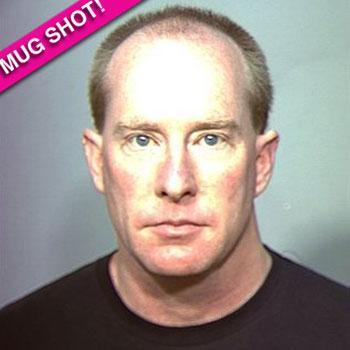 Christopher James Hooker, the 41-year-old former Modesto, Calif. teacher whose affair with a teen former student, caused a national scandal, has been arrested.
But the bust didn't come in connection with Hooker's affair with Jordan Powers, with whom he's been living since leaving his wife and children, and quitting his teacher's position.
He was arrested Friday on one count of oral copulation with a minor for an incident officials said happened 14 years ago.
Article continues below advertisement
The charge stems from a relationship Hooker allegedly had in 1998 with a 17-year-old student at the school where he previously taught, reports The Modesto Bee reports.
Hooker was arrested at his home this morning and booked into Stanislaus County Jail. He later had a brief court appearance where he pleaded not guilty and was appointed a public defender. He's being held on $50,000 bail.
Hooker and Powers met when she was a freshman but both say the romance didn't take off until she turned 18.
Her mother, Tammie, had very aggressively campaigned to have teacher-student sex made illegal, regardless of the student's age.
Hooker and Jordan made appearances on numerous TV shows, including Good Morning America and Dr. Phil, defending their love.
She and her mother have reunited, at least for now.
RELATED STORIES:
Vanessa Williams: I Was Sexually Abused As A Child
Famed Gymnastics Coach Doug Boger Accused Of Sexual And Physical Abuse Of Young Girls