Exclusive
Kelly Osbourne: Why I Got Drunk On The Plane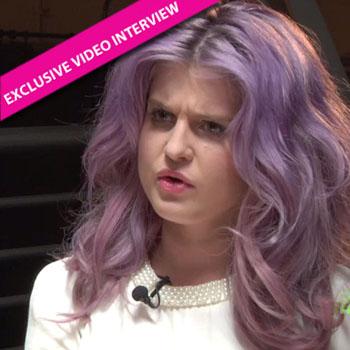 By Alexis Tereszcuk - RadarOnline.com Entertainment Editor
Kelly Osbourne is speaking out and admitting exclusively to RadarOnline.com that she was drunk on a plane recently, but explains the heartbreaking details that led up to her breakdown when she "lost it."
In a candid interview, Kelly opened up about what happened to cause her to turn to alcohol.
"The first thing I want to say is the only reason I'm being so honest and telling you what happened is because I don't think it's fair for me to lie. I'm not going to say I didn't do something when I did it.
Article continues below advertisement
"I got drunk on the plane to Atlanta," Kelly said in a no-holds barred exclusive interview with RadarOnline.com, and she revealed why.
"It was on an empty stomach, and before I got on the plane a gentleman came up to me and asked me how my brother was doing and told me about his brother having MS (Multiple Sclerosis) and directed me towards a website.
"On the plane I started looking at the website. It described how bad certain cases of MS got, and it made me lose it because I've sat through my mother having breast cancer, my dad almost dying from a bike accident, and now it's my brother who's my best friend.
Article continues below advertisement
"I hate the fact that I'm sitting here right now, and that's even an excuse because it's not an excuse."
Kelly Osbourne Downs Champagne At Friend's Wedding
Kelly has spent time in a rehab center, but she spoke candidly about the fact that she drinks alcohol, but said her actions on the plane were not of a crazed drunk person.
"I have not lied about it. I have the occasional drink. I will never lie about that. That's my choice that I make and I'm an adult and I have to be responsible for my actions.
"But it's not like I was f*cking claiming there was a colonial woman on the wing. Like I was so out of it they had to land the plane or something. I got drunk on a plane, big deal."
Jack Osbourne's Multiple Sclerosis Diagnosis 'Is Not A Death Sentence' Says Doctor
The day after the flight Kelly Tweeted "Had a nerves breakdown yesterday that was cool!cool!#Not," and she said she understood why people would be concerned about her, but she was adamant about the fact that while she drinks she isn't using other substances.
Article continues below advertisement
"The way I live my life after going to rehab is not the way that most people do. It isn't. Yes, I still drink and I've always said that. I do have the occasional drink. I'm not using, I haven't. I won't. I'm not going to do that.
"I had a moment of just is this really happening to me all over again? And unfortunately it was in front of everyone.
Sharon Osbourne Breaks Down Talking About Jack's MS Diagnosis
Kelly said her honesty makes her a standout in Hollywood.
"I'm not one of those starlets that's drinking vodka out of a water bottle thinking no one knows.
"If I'm going to have a f*cking drink, I'm 27 years old. I'm going to have one. Unfortunately I decided to have one on a plane to Atlanta and burst into tears."
Kelly did say her only concern was her brother Jack and making sure that he understood what happened.
Article continues below advertisement
Jack Osbourne Diagnosed With Multiple Sclerosis, Feels Angry And Frustrated
"I can't stand knowing that he probably is thinking that it was because of him being diagnosed that I made a fool of myself. I made a fool of myself regardless of Jack and I hate that that's even out there."
Stay tuned to RadarOnline.com for more straight from Kelly about her drunken breakdown and pick up the latest issue of Star magazine for more details on newsstands now.