Jack Osbourne On M.S. Shock, 'One Minute I Am Fine, The Next I Am Blind In One Eye'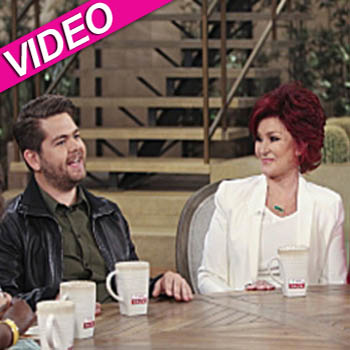 Article continues below advertisement
"I'm doing really well actually, I think me and Jack are doing better than everyone else," revealed Lisa, smiling perkily.
"We're just really trying to stay positive and like he said, we don't really have time to be sad, because we have diapers to change and a little girl to look and smile at. We're just having a lot of fun and he's going to be OK," she told her future mother-in-law and her co-hosts.
Jack, 26, went on to explain that the disease is not a "death sentence," like many people think. "That's a huge misconception, people often think M.S. is Parkinson's or muscular dystrophy, but it is actually very manageable and people live very normally," he said optimistically.
"Another misconception is that it's a disease of age, the most common diagnosis is between 20 and 50. So little is known about it, and that's one of the huge reasons why I want to be so vocal about it," explained Jack, who is hoping that shining a spotlight on his plight will increase funding for M.S. research.
Article continues below advertisement
Earlier when he arrived on the set of the CBS chat show, Osbourne was quick to tell everyone that he was doing great – for the time being at least.
"Honestly, I'm fine! The toughest thing I am finding is that one minute I am fine and the next I am blind in one eye. That's the completely unpredictable thing about the disease," he said, explaining that after losing 60 percent of the vision in one eye, it is now back to 80 percent.
Rocker Ozzy's son explained that simply put, M.S. "is the arthritis of the nervous system, it causes inflammation of the nerves," and common symptoms are paralysis or loss of vision.
"I guess I was having symptoms over the past three or four years and not realized it," said the Brit, who had been suffering from problems with his bladder, stomach and numbness in his leg, prompting him to look for a medical explanation that led to painful tests.
Article continues below advertisement
"I had a spinal tap, which wasn't fun – nothing like the band, not nearly as funny," joked Jack.
radar_embed service=5min.com src=" http://pshared.5min.com/Scripts/PlayerSeed.js?sid=1126&width=486&height=412&playList=517708372&sequential=1&shuffle=0"
RELATED STORIES:
Sharon Osbourne: 'My Son Will Conquer' Multiple Sclerosis
Jack Osbourne's Multiple Sclerosis Diagnosis 'Is Not A Death Sentence' Says Doctor