Exclusive
Josh Powell's Sister Posts Heartbreaking Home Videos To Vindicate Father, 'She's Disillusioned,' Says Brother-In-Law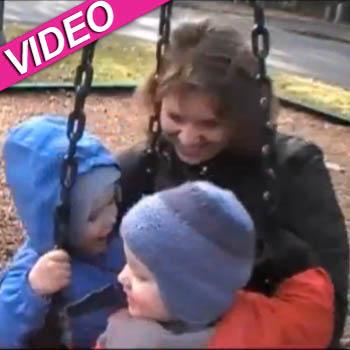 At first glance, the people in the home video appear to be like any normal, happy family as the proud parents watch their young sons glide down the slide and swing on a tire in the playground as their grandfather captures it all on film.
Then the reality sinks in that mother, Susan Powell is missing and presumed dead and the father, her husband Josh, was the prime suspect before he attacked their two boys, Charlie, 7, and Braden, 5, with a hatchet and blew them all up earlier this year. The only surviving person featured in the video is their grandfather, Steven Powell, who is currently facing charges of voyeurism against two young girls and whose journals reveal a disturbing sexual obsession with his daughter-in-law.
Article continues below advertisement
The family footage has been released by Steven's daughter, Alina Powell, on a website titled West Valley and Pierce County Malfeasance in an attempt to attack people who she thinks have wrongly accused her dad and brother, including her own sister, Jennifer Powell Graves.
"I don't think she sees the world right now. In her mind she is trying to settle what she sees as an injustice," Kirk Graves, Jennifer's husband, told RadarOnline.com in an exclusive interview about his troubled sister-in-law. "She doesn't have anything to say that is meaningful."
As RadarOnline.com previously reported, Josh was the prime suspect in the disappearance of Susan, who vanished in December 2009 when he claims he went on a last minute camping trip with their young sons, in the middle of freezing cold winter in West Valley City, Utah.
In one online rant, Alina specifically pinpoints people she has grievances with in each clip, and before the footage of the Powells playing in the park she addresses her estranged sister directly.
Article continues below advertisement
"Jennifer Graves has been running around posing in the media as if she were a part of our family... She's not," reads the text on the black screen. "She claims to have a bunch of inside knowledge about our dad even though she hasn't seen or spoken to him – even by phone – more than a handful of times in the past 20 years."
However, instead of staking claim to her family background, Kirk told RadarOnline.com that his wife is trying to do the exact opposite. "That's funny because I think everyone knows Jennifer has been separated from that group for 17 years. Nothing she has said has implied she has been a part of them recently," he explained.
In another video clip posted by Alina, Jennifer tells news reporters that Susan had told her Steven "had been a peeping Tom when they were staying with him," to which her sister retorts, "Is that why after her kids were born she had no problem with Steven Powell being around them?"
The heartbreaking home video closes with yet more angry comments from Alina, "Yeah, you might want to rethink that one Jennifer," she snipes.
Article continues below advertisement
"You have hated our dad for over 20 years because he left the Mormon Church... You despised him so much that you wouldn't even acknowledge his existence on your wedding invitation when you got married in 1994, do you remember that?"
When asked if he found the viral attack on his wife hurtful, Kirk told RadarOnline.com: "It doesn't upset me, whatever she has to say it doesn't affect me. After everything else it is a drop in the ocean," he explained.
Rather than being angry at Alina, he merely feels sorry for her. "She has been under the thumb of Steve for the last 18 years, I don't think she has a world view that is based in reality. She has a lot of healing to do.
"She is going through her own pain right now, I don't know that anyone can really blame her for what she says. They can't take it seriously either."
With Josh, Braden and Charlie all dead and Steven in prison, Alina is suffering alone right now. "She was close to the boys too and now she is seeing her dad go through this trial. She has lost everybody," revealed Kirk.
Article continues below advertisement
The videos of Susan and Steven playing happy families with Josh and the kids is her attempt to prove that she was comfortable around the alleged child voyeur.
"She needs to get out from underneath him," Graves advised. "I don't think she sees the world right now."
The jury in Steve Powell's Tacoma, Washington trial is currently in the deliberation stage and a verdict is expected shortly.