Exclusive
Social Worker 'Couldn't Have Saved' Josh Powell's Children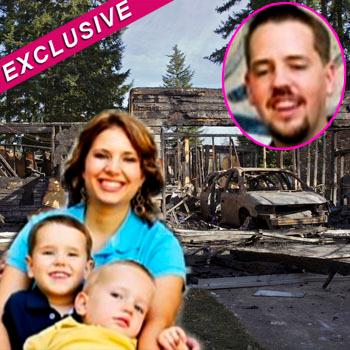 By Debbie Emery - Radar Reporter
The chilling 911 call from the social worker outside of Josh Powell's house as he killed his two sons inside has haunted everyone who has heard it, and now RadarOnline.com can exclusively reveal that the social worker could not have done anything else to save their lives.
Elizabeth Griffin-Hall, a contracted care worker for the Foster Care Resource Network, was taking 5-year-old Braden and 7-year-old Charles for a supervised visit with their dad at his home in Graham, Washington, on Sunday when he slammed the door in her face, causing her to make the frantic call alerting the emergency services that she was "afraid for their lives."
Article continues below advertisement
Heartbreaking 911 Tapes Released In Josh Powell Murders
As everyone involved in the heartbreaking scenario has questioned if it could have been prevented, a spokesperson for the Children's Administration at the Department of Social and Health Services explained that Griffin-Hall could not have acted any differently.
"She is very broken up, she is severely impacted by it," Communications Officer Sherry Hill exclusively told RadarOnline.com. "She had worked with the children long enough to bond with them and know them.
"This was a supervised visitation the entire time," explained Hill. "It was the highest level of visitation. None of the parties can be out of the line of sight of the care worker at any time.
"She was right with the children, and she was one step behind them and that would have made sense. She couldn't have had them behind her because then they would be out of her sight.
"The only thing she could have done was force herself into the house and then she would have died with them."
Article continues below advertisement
As RadarOnline.com previously reported, Powell has been law enforcement's main "person of interest" in the December 2009 disappearance of his wife Susan. He claimed she'd gone missing from their home in Utah while he was off on a middle-of-the night camping trip with their sons.
Those boys had been placed in the custody of Susan's parents last September, and just days ago a family court judge told Powell that he was not likely to regain custody anytime soon, and that he needed to undergo a psychological review.
Griffin-Hall had supervised visits with Powell and the boys every Sunday since November 2, 2011 from 12 p.m. until 4 p.m. and had never noticed any strange behavior from the estranged dad, explained Hill. "There had never been any hint of suicidal thoughts (from Powell) or risk of harm to the children."
An autopsy revealed that Powell attacked his sons with a hatchet before lighting the house on fire, killing all inside.
Article continues below advertisement
While some have criticized the emergency dispatcher for not taking Griffin-Hall's call seriously, Hill explains that it is easy to point fingers after the fact.
"Everyone in hindsight wonders if we did things right and questions what we did. But I don't even know if there would have been time to prevent what happened and if they could have gotten there sooner."
The friends and family of both Josh and Susan are struggling to cope with the tragedy, and for the professionals involved it is equally a traumatic.