Mobster Whitey Bulger's Girlfriend Looking To Cut Deal To Reduce Jail Time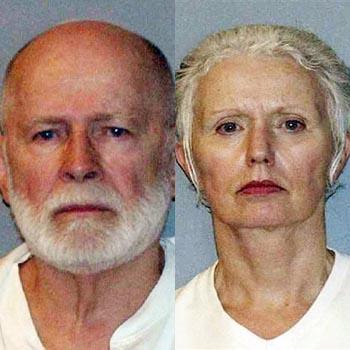 Article continues below advertisement
After running from the law for 16 years, Bulger -- the 81-year-old head of Boston's Winter Hill Gang -- was arrested in Santa Monica, California in June 2011 after an informant turned him in. He's charged with murder, conspiracy to commit murder, narcotics distribution, extortion and money laundering. As RadarOnline.com previously reported, Bulger has pleaded not guilty in connection with 19 killings.
Relatives of alleged Bulger victims said they were told Friday by the U.S. attorney's office in Boston that Greig, 60, has said she wants to change her not guilty plea to one of guilty, reported the Boston Globe, and some of them are not happy about the possibility of her getting a more lenient sentence.
"She's got to know where Whitey has hidden any money or property,'' said Steven Davis, whose sister Debra was strangled in 1981, allegedly by Bulger. He is concerned that once Greig is released she could quietly retrieve assets that authorities have yet to find. "She could get out and be set for life.''
Article continues below advertisement
The mourning brother also wants to know if the judge can issue an order prohibiting Greig from profiting from a book or movie about her life with Bulger.
"I'm tired of everyone out there making money off the misery and heartache of families,'' he said.
As RadarOnline.com previously reported, Boston natives Ben Affleck and Matt Damon have been in talks to make a big screen blockbuster of Bulger's life with Damon in the lead role.
"We've heard about Whitey Bulger since we were kids, and we are excited by the prospect of putting it on screen," the Bourne Identity star told GQ magazine.
Other victims' family members are adamant that Greig – who has been held without bail at a Rhode Island detention center since her arrest last summer - should spend more time locked up, not less.
"She should not be let out,'' 83-year-old Emily McIntyre, whose son John was allegedly murdered by Bulger in 1984. "My son suffered eight hours of torture. She knew what Bulger was doing.''
Article continues below advertisement
Greig is still the legal owner of the tidy, shingled house in Quincy, Massachusetts, which she bought in 1986. Former neighbors who knew the "quiet and pleasant woman" believe that she must have been aware of Bulger's sinister criminal occupation.
"How could she have been moving around with him for that many years and not say she didn't know,'' said Dana Olson, 70, who lived two doors away from Greig's home for nearly a decade. "She's probably looking to get out of this early.