Matt Damon & Ben Affleck Making Whitey Bulger Movie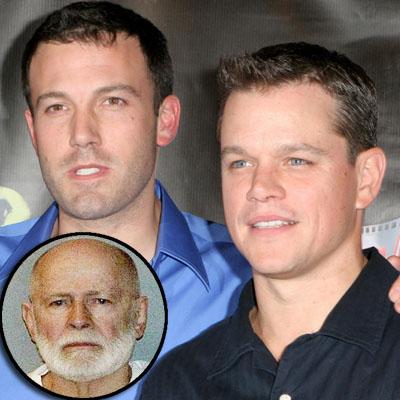 Beantown boys-turned-Hollywood hunks Ben Affleck and Matt Damon are bringing the story of recently-captured Boston mafia don Whitey Bulger to the silver screen.
Damon told GQ he will play Bulger, while Affleck is set to direct and act in the film. Terence Winter, of HBO's critically-acclaimed Boardwalk Empire, is the scriptwriter.
Damon and Affleck won the Oscar for best original screenplay for their 1997 opus Good Will Hunting.
Article continues below advertisement
"Matt and I have been looking for something to do together for some time," Affleck told Deadline. "We've heard about Whitey Bulger since we were kids, and we are excited by the prospect of putting it on screen."
After running from the law for 16 years, Bulger -- the 81-year-old head of Boston's Winter Hill Gang -- was arrested in Santa Monica, California after an informant turned him in. He's charged with murder, conspiracy to commit murder, narcotics distribution, extortion and money laundering.