Exclusive
Accused Honeymoon Killer's Acquittal Was Like 'Tina Dying All Over Again' Says Victim's Dad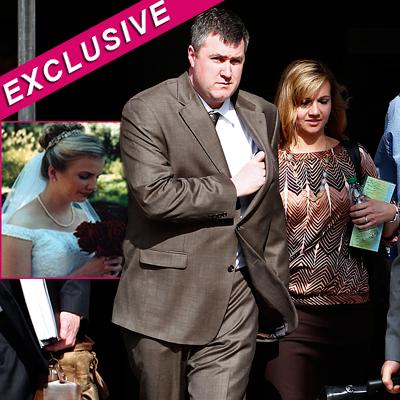 Article continues below advertisement
As RadarOnline.com previously reported, Watson, 34, was acquitted of killing his wife of 11 days by Birmingham, Alabama Judge Jimmy Nail, after he decided on February 23 that there wasn't enough evidence to send the case to jurors.
Tina drowned while diving on the Great Barrier Reef in Australia in October 2003 under suspicious circumstances. Prosecutors argued Gabe turned off her air supply and let her sink to the bottom of the ocean floor so he could profit from $210,000 in insurance claims.
"I think we were all shocked by what the judge ruled," Mr. Thomas revealed to RadarOnline.com. "Everyone is coming up with their own reasons about why he did what he did.
"We expected it to go to the jury, had it gone we would have been happy," he explained, but instead: "It came down to one person making a decision again. That is not what justice is about.
"He took a plea in Australia, and he didn't see a jury there."
Article continues below advertisement
Facing a murder trial in Queensland, Australia in 2009, the alleged killer instead pleaded guilty to manslaughter in return for 18 months in prison. The surprisingly short sentence he received sparked outrage among Tina's family, who joined forces with prosecutors in the Attorney General's office to obtain a two-count capital murder indictment against Watson in his home state just before he was freed from prison.
"What's really important to us is that this go through the process that should have happened in Australia, that he has to stand before the evidence and answer to it," said Tommy before the trial began last month.
Sadly his one last dream for Tina never came true.
"It is not going to happen, it is done now," the grieving father told RadarOnline.com. "This is the end of it. I'm not interested in talking about it anymore. We don't have any closure, how could we? To us it is like Tina died all over again."
Article continues below advertisement
When asked by RadarOnline.com if he thought that Watson had killed Tina, Thomas said yes.
"I have long believed that Gabe did it throughout the evidence and the inquest," he replied, confirming that it hurt the family immensely to think that he is now walking free for the rest of his life.
"There is nothing else that we can do about it. He may or may not have been convicted by a jury, but we won't find out now because the judge acquitted him on the basis of insufficient evidence, but he didn't let any of the witnesses speak for Tina.
MORE ON:
Celebrity Justice
"There is so much protection offered to the accused and as much neglect to the victim," said heartbroken Tommy.
Now all that is left is for the family to try to get on with their lives and move on.
"We are just going to do the best that we can do. For the past eight years we had to take it a day at a time, and we have to do that still now."
As RadarOnline previously reported, Watson cannot be retried for this crime under double jeopardy laws. "That is it. It's over," Los Angeles Criminal Defense Attorney Dana Cole explained. "Once the case is dismissed, double jeopardy applies and any retrial is barred."
Article continues below advertisement
Meanwhile, Thomas said that the family is not planning any further legal action.
"There will be no civil case," he told RadarOnline.com. "The statute of limitations for this type of case runs out after two years in Alabama, and we wanted to be convinced that Gabe did it before we did that.
"It took a lengthy police investigation, and we still hoped that he would appear at the video inquest, but that never happened," explained Thomas. "He isn't the first murderer to go free and won't be the last."
Much of the investigation into Tina's underwater death on the world famous reef was conducted down under in Townsville, and Tommy said the residents, police and media there had brought him and his family rare relief during the almost decade of pain.
"The people of Australia and Queensland have always been very supportive and they knew before we did that Gabe did it," he told RadarOnline.com.
"We have a special place in our heart for the people in Australia for their support and we wish we could have given them a better ruling."
Article continues below advertisement
As for Gabe, who can look forward to a life of freedom with his second wife Kim Lewis Watson in the marital home that he bought with Tina, Thomas thinks justice will catch up with him in this life or the next.
"There is a higher judge, and he will get his comeuppance."
In the meantime, Tommy is determined to live his life to the fullest and enjoy time with his six and eight-year-old grandsons.
RELATED STORIES: