'Honeymoon Killer' Suspect Breaks His Silence, Claims He Was 'Devastated' By Wife's Drowning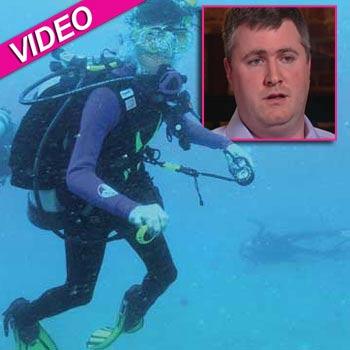 By Debbie Emery - RadarOnline.com Reporter
Just over a week after his murder case was dismissed by an Alabama judge, the man who has been known as the 'Honeymoon Killer' for the past eight years has finally broken his silence about the death of his wife of 11 days, who drowned while scuba diving in Australia in 2003.
Gabe Watson has kept a low profile since he was set free on February 23 when a Birmingham, Alabama court ruled that there was not enough evidence to continue his trial, but he's well aware that in the court of public opinion, many people believes he is in fact guilty.
Article continues below advertisement
The 34-year old will tell his side of the story on Friday's 20/20 on ABC., In the exclusive interview, Watson claims that he didn't know his late wife, Tina Thomas Watson, had never dived in open water before, despite having 11 dives under her belt.
Watch the video on RadarOnline.com
Instead of being nervous, "She was excited. I was excited. We were ready to go," said Watson. "I kind of figured, we're on vacation. They're going to be very easy, calm, nice, pretty dives."
He ended up being very wrong, as strong currents sweeping around the wreck of the SS Yongala, a 350-foot steamer that has sat 50 feet below the surface near Australia's Great Barrier Reef since 1911, meant the trip down was only meant for advanced divers.
The newlyweds submerged down the anchor line and planned to swim around the wreck, but as soon as they let go they could feel the current grabbing hold of them. "I stuck out my right hand, she grabbed it with her left, and we both started swimming back to where we came," said Watson.
Article continues below advertisement
He claims that he tried to motion to her to inflate her BCD (buoyancy control device) jacket so that they would float up to the surface, but nothing happened.
"That was when I realized, you know, 'We're -- This isn't good. We're in trouble,'" he told 20/20. "So I reached out and grabbed hold of the b.c. strap right there. And I just pulled her in, and then I turned and started heading back to the anchor rope
"I was scared to death," said Watson, who said he tried to tell Tina to, "Swim, swim!
"All of a sudden I just felt this whack across my face, and my mask got, like, turned off to the side of my face," so he let go off his new bride to fix it and when he looked back up Tina was 10 feet down and sinking.
"She was face up, and she had her arms up. She was reaching out for me to grab ahold of her."
"I kinda just turned on my head and gave a few kicks down to see if I could grab her," he said. "And she was still out of arm's reach. And that -- I just decided I got to go find somebody."
Article continues below advertisement
His last statement is what has many people questioning whether his story is a lie, as why would you not do everything you can to save the life of your wife, even if it puts yours in danger?
Instead, he turned his back and ascended at a safe pace and told for a dive master to go and retrieve her from the ocean floor.
As RadarOnline.com previously reported, rather than being by Tina's side as rescuers tried to resuscitate her, Watson hung out on the other boat and was hugged by women and seeking sympathy.
"That's not something I can handle," Watson said. "I don't ever want to see one of my loved ones being worked on like that, ever."
When he heard the news that she was dead, he said he collapsed on the floor, "I was devastated."
In the investigation held by police in Queensland, fellow passengers said Watson's story didn't add up or make sense, while one diving medical expert did take his side.
"She was doing a dive to a depth that she had never been to before, in conditions she'd never experienced before," said Dr. Carl Edmonds, who doesn't think Tina's death is suspicious. "It all fits together ... as a very common drowning accident."
Article continues below advertisement
He went on to explain that because Tina would have been panicking, she would have gulped down much more air that normal, then aspirate water through the regulator in her mouth, eventually losing consciousness and sinking to the ocean floor.
We may never know the truth about what happened that day, as RadarOnline.com exclusively reported, Watson can not be tried again under the laws of double jeopardy.
"He will not be retried for this crime, that is it - it's over," Los Angeles Criminal Defense Attorney Dana Cole told RadarOnline.com in an exclusive interview.
The full interview airs on ABC's 20/20 on Friday at 10 pm ET/PST.