Petit Family Murderer: From Super Cute Kid To Cold Blooded Killer, See The Transformation Of A Monster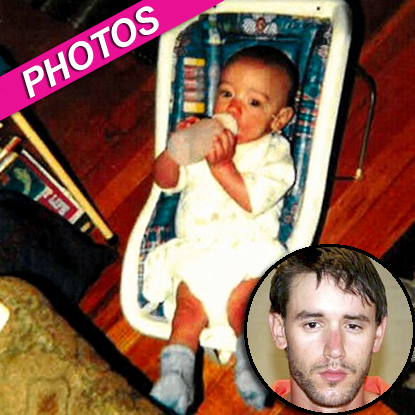 Sat across the courtroom from the boy that she adopted who grew up into a convicted triple murderer, Jude Komisarjevsky gave jury members debating whether he should be sentenced to death, an insight into his childhood, RadarOnline.com has learned.
Jude was brought to the stand by the defense on the third day of the penalty phase of Joshua Komisarjevsky's trial that will determine if he gets the death penalty or life in prison.
Article continues below advertisement
As RadarOnline.com previously reported, Komisarjevsky was found guilty of 17 counts on October 13 for the grisly murders of Jennifer Hawke-Petit and her daughters, Hayley, 17, and Michaela, 11, and the vicious beating of their father on July 23, 2007 in their Cheshire, Connecticut home.
Following Wednesday's testimony from her husband Ben, Jude told the New Haven, Connecticut courtroom how the couple had adopted two-week old Josh after she was told she couldn't conceive.
Defense attorney Todd Bussert presented copies of journal pages Jude wrote in the months after the adoption and Jude smiled as she read the entries, including one that said, "Here was the Joshua we always wanted," reported the Hartford Courant.
The alert, laughable and smiling baby that she brought home couldn't be further away from the stone-faced killer that has sat in court listening without a flicker of emotion during both phases of the trial.
Article continues below advertisement
"It was obvious he was going to be rowdy and very sociable," wrote Jude in her journal.
The family album of baby pics showed a giggling Komisarjevsky as he frolicked in red overalls, rode a rocking horse and tried on his dad's over-sized clothes. Later photos show a teenage Josh enjoying outdoors adventures such as fishing with his family and kayaking.
Despite her sentimental words as a young mother, Jude barely glanced at her 31-year-old son as she broke down in tears remembering family memorabilia.
Jude gave details of her own upbringing that included being beaten as a child, turning to Christ at 18, and meeting her "very, very, very shy" husband who she was attracted to because of "his commitment to the Lord."
Sadly, life in the Komisarjevsky household did not stay peaceful for long.
During his initial trial, defense lawyers revealed how Komisarjevsky was anally and orally raped and tortured between the ages of 4 and 6 by an older boy his deeply religious parents cared for named Scott.
MORE ON:
Celebrity Justice
Article continues below advertisement
On Wednesday, Ben Komisarjevsky told the court that Jude took in Scott (along with his sister, Beverly) despite knowing he was abused and developmentally challenged because, "Nobody else would love them," he said.
Ben went on to reveal how in 2006, after Joshua was released from a halfway-house after serving time for multiple burglaries, he went back to live with his parents while he fought for custody of his own daughter.
"I thought it was a good responsibility on his part," said his dad.
After the Cheshire home invasion killings, state social workers placed Komisarjevsky's daughter into a foster home and then into a maternal aunt's home, reported the Hartford Courant.
The convicted killer has not seen his child since the murders, but his father diligently visits him in prison every two weeks. "We haven't been able to touch him in four years because of the glass," revealed Ben.
Article continues below advertisement