Exclusive
EXCLUSIVE: Teen Mom Star Gary Shirley Goes On $24K Spending Spree -- Baby Girl Left Out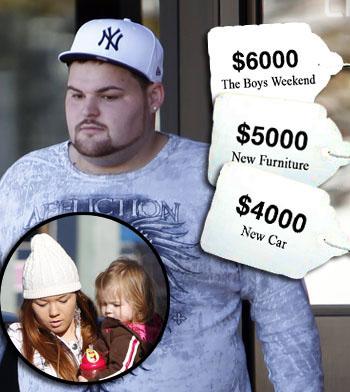 Teen Mom star Gary Shirley has been splashing cash on trips, toys and gadgets for himself, but his baby girl Leah has been left out, sources told RadarOnline.com exclusively.
"Little Leah hardly gets anything. Gary spends so much money on himself, but it's rare that he'll buy her anything," said a source.
Following his split from his baby momma Amber Portwood, over the last few months Gary has been emptying his bank account -- to the tune of about $24,000! -- on a bachelor weekend in Vegas and furniture for his bachelor pad.
Article continues below advertisement
Gary's shopping spree has included:
$6,000 on a boys-only bachelor weekend in Miami, where big spender Gary dropped $3200 at VIP nightclubs.
$5,000 on furniture
$4,000 down on a new Dodge Charger (while he has a suspended license)
$3,500 on an 82-inch 3D HDTV
$3,000 on a Mac desktop computer
$400 on a PlayStation 3
$600 on an iPad
According to the source, Gary has also made even more thousands in media opportunities, which he's already spent.
His 2-year-old daughter Leah, who's been stuck in the middle of ongoing custody issues between her young parents, hasn't exactly shared in her dad's new-found wealth.
"Leah only got three small presents for her birthday, which maybe cost $200, while he's spoiling himself!" the source said.