VIDEO: Montana Fishburne & Boyfriend Talk Kim K., Fallout With Dad, & 'Leopard Booty'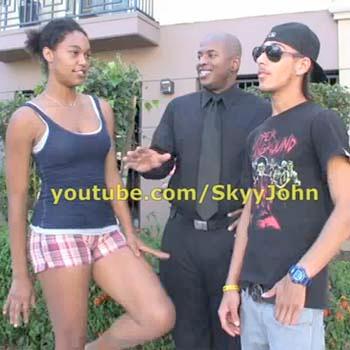 Laurence Fishburne's porn star daughter Montana, with boyfriend J Pipes at her side, gave a revealing interview in which she talked about the comparisons between she and Kim Kardashian, her fallout with her famous father, and the oft-discussed spots and marks on her rear end.
Watch the clip on RadarOnline.com
Montana -- who has done two porn movies, one with Vivid, one with porn star/rap wanna-be Jeremy Pumper -- told YouTube user Skyy John that what you see in her films trumps that of Kardashian's taped tryst with ex-boyfriend Ray J.
Article continues below advertisement
"Our tapes are different, you're getting more of a performance," Montana said.
J Pipes denied the claims made by one of Fishburne's former friends that he's been pimping The Matrix star's daughter.
"Man, I'm not a pimp at all, I'm her boyfriend, ain't nowhere near a pimp," J Pipes said. "B---h is lying."
Fishburne said her famous father probably could have gotten her a part in a mainstream film, but porn was her main goal all along. She acknowledged there's a rift with her father, who she called "a good guy," and said she believes they will eventually reconcile.
She was also asked about the splotches of discolorations on her derriere, which are easily visible in the films.
"I've had spots on my butt forever -- it 's a leopard booty," she said, laughing.
J Pipes said he was on set during Fishburne's scene with Pumper, but was not overcome by jealousy witnessing his girlfriend have sex with another man.
"Business is business -- you condition your mind different to different things and you can get over it," he said.