PHOTOS: Montana Fishburne Poses In Sexy Lingerie, Kim Kardashian Inspired Her To Make Sex Tape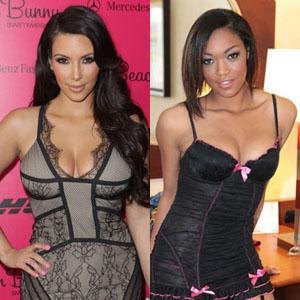 Montana Fishburne, the daughter of CSI star Laurence Fishburne, got the idea to make a sex tape by charting Kim Kardashian's career, RadarOnline.com has learned.
Montana's naked romp is being released by Vivid Entertainment, the company behind several celebrity sex tapes includes Kim's and Kendra Wilkinson's.
"I've watched how successful Kim Kardashian became and I think a lot of it was due to the release of her sex tape by Vivid," Montana, who goes by the porn name Chippy D, says. "I'm hoping the same magic will work for me.
Article continues below advertisement
"I'm impatient about getting well-known and having more opportunities and this seemed like a great way to get started on it."
Montana's dad, Laurence, who took over as the star of CSI: Crime Scene Investigation last year, is an acclaimed actor who also starred in all three of the Matrix movies.
He hasn't commented on his daughter's X-rated exploit, which has an August 18 release date.