Donald Sterling Saga — 6 Latest Developments: NBA Preparing To Announce Its Move Tuesday, As Sponsors Abandon Clippers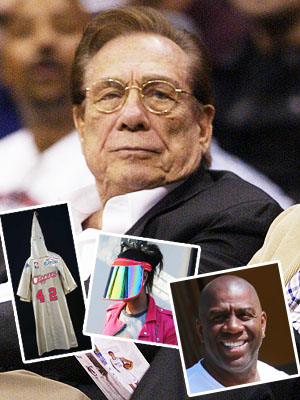 The saga of Los Angeles Clippers owner Donald Sterling, accused of making racist comments on a secret recording, continued at a breakneck pace Tuesday, with NBA officials set to formally address the situation, and many other key developments sprouting up as the controversy remained the nation's biggest topic for talk.
'Defining Moment'
With the masses clamoring for punishment, NBA commissioner Adam Silver will discuss Sterling's fate as an NBA owner in a news conference in New York City Tuesday, after the 80-year-old was purportedly heard on tape chastising girlfriend V. Stiviano for publicly associating with black people, both at Clippers games and on her Instagram page. Sacramento Mayor Kevin Johnson, a former player who's serving advisor to league officials during the tumultuous time, has called for the association to hit the billionaire with "the maximum fine possible," and issue him an indefinite suspension. "Mr. Sterling should no longer have the privilege of being an owner of an NBA team," Johnson said, laying out the possibility of a relative or trustee to take ownership of the embattled franchise. He added that the incident marks "a defining moment in the history of the National Basketball Association." The Sterling name has been anything but the last few days, as companies that have dropped all sponsorship of the Clippers include CarMax, Kia Motors, America Virgin America, P. Diddy's AQUAHydrate, Red Bull, Yokohama, Mercedes-Benz and State Farm. The latter insurance giant said it will continue to air its' witty series with the team's star point guard Chris Paul.
Article continues below advertisement
Watch the video on RadarOnline.com
Visit NBCNews.com for breaking news, world news, and news about the economy
V Is For Visor?
Sterling's gal pal V. Stiviano sapped up the onslaught of attention in the national scandal by playing hard-to-get Monday, wearing a futuristic, Robocop-esque visor as paparazzi and news crews followed her like the second coming of Kim Kardashian. The Los Angeles native was born Maria Vanessa Perez, but four years ago changed her named to V. Stiviano, citing in court papers that she was "born from a rape case and having yet been fully accepted because of my race." Stiviano has yet to publicly address her role in the scandal, only a statement from her attorney Mac Nehoray saying she hadn't leaked the tapes. Nehoray's office told the AP Monday the attorney was not commenting on the story, citing his Fifth Amendment rights related to the ongoing embezzlement lawsuit between the 31-year-old Stiviano and Rochelle Sterling. Police in Los Angeles said no investigations regarding Stiviano, or the tape, were underway.
An Average Joe … Make That John!
The scandal has breathed new life into the anthology of tales of the elder businessman's kinky predilections, whose dalliance with a high-paid prostitute named Alexandra Castro made for sordid legal blotter via a 2003 lawsuit in which he attempted to retrieve a house he'd given her. Sterling said Castro was a "freak" and a "piece of trash" whose "best sex was better than words could express." He denied a three-year relationship with the $500-an-hour lady of the night, breaking down the concept of the world's oldest profession in explaining, "When you pay a woman for sex, you are not together with her — You're paying her for a few moments to use her body for sex. Is it clear? Is it clear?" Sterling's sexual proclivities even spilled over to the locker room, according to NBA stalwart Elgin Baylor in his 2011 lawsuit against the owner, saying he'd often parade female guests through the Clips' locker room and suggest they "look at those beautiful black bodies" of the players. Compounded with his non-opposition to Stiviano carrying on sexual relationships with black men (as heard on the tapes), Sterling's possible psychosexual fixation on the topic had some on Twitter suggesting he's a cuckold, a man whose excitement is derived from the sexual pleasure his cheating partner gets from more spry, better-equipped partners.
Article continues below advertisement
No Circling The Wagons Here
With the aforementioned possibility a member of the Sterling family could gain control of the team, it's no shock those in the well-heeled clan have public denounced the purportedly-prejudiced patriarch's words and actions, perhaps jostling for position as the story continues to gain traction. Sterling's son-in-law and employee Eric Miller called his father-in-law's actions deplorable and disgusting, according to online reports. Miller, the Director of Basketball Administration for the Clippers, said that losing his gig as part of a punitive measure by the league toward his father-in-law would be a token price to pay in the struggle against racism. Miller's wife Joanna Sterling Miller said she was devastated and saddened by the news, according to online reports, while the team's owners wife Rochelle Sterling distanced herself from the inflammatory sentiments in a statement to ESPN. "I am not a racist. I never have been, I never will be. The team is the most important thing to my family." Regarding the validity of the tape from which the scandal unfurled, Rochelle said she hasn't heard it in its' entirely, but thinks "there were some parts that were cut out." She continued, "I will let the experts handle that. The one thing I want everyone to know: I am not a racist and I do not condone what I heard on that tape."
The Roast Continues
Asinine comments, prurient predilections and a checkered past have made Sterling the target of a stream of witty memes, and on Monday night, the late night comics got their licks in on the embattled billionaire. David Letterman's famed Top 10 list was composed of "people Donald Sterling looks like," with punchlines such as Mickey Rourke, "the guy who hits on a bride at her wedding," and "the soon-to-be former owner of the Los Angeles Clippers." He added that Sterling had been "rushed to the Paula Deen rehab facility in Georgia" Monday. Jimmy Fallon, referencing our world exclusive Mel Gibson tapes the Sterling controversy has drawn obvious parallels to — said that the Braveheart star "was like, 'Just stop talking.' He added, "And this is pretty awkward: Donald Sterling was actually scheduled to receive a lifetime achievement award from the NAACP, but the organization has now called off the ceremony. Yeah, it turns out black people don't want to be photographed with him either!" Jimmy Kimmel joked that "Sterling insists that he is not a racist – he says some of his best credit cards are black!" Meanwhile social media were busy lampooning the owner with various photoshops and memes mining humor, outrages, and in some cases, a combo of both, with their creations. One image featured a Ku Klux Klan robe-Clippers jersey hybrid, while another cast Paul as the lead character artwork for the film 12 Years A Slave.
Magical Karma?
In what would be the most ironic of all twists, Magic Johnson — one of the black people Sterling chided his girlfriend for being photographed with — might just be sitting in Sterling's chair if things break a certain way. The NBA legend and Dodgers co-owner is "absolutely interested" in purchasing the franchise as the public face of the Guggenheim Partners business consortium that purchased the MLB team in similarly stormy circumstances. On Sunday, the Los Angeles icon told ABC Sports that league officials ought to "come down hard"on Sterling, who "shouldn't own a team anymore." The unabashed Johnson, 54, added, "This is bad for everybody — this is bad for America — I'm really upset about it."