There She Goes Again: Paula Deen Post Spoofing 'I Love Lucy' Uses Blackface For Ricky –– Chef Caught Up In ANOTHER Shocking Racial Scandal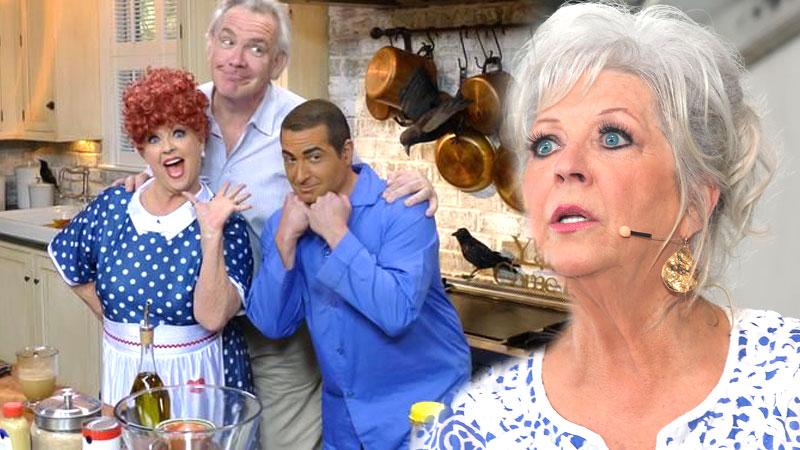 Paula Deen is amid yet another racial scandal, as the TV chef uploaded an image spoofing the iconic TV show I Love Lucy -- with her son Bobby's face painted brown.
The Southern chef, whose career took a major hit two years ago after she admitted using the N-word (during a lawsuit at the time), is again in a racial controversy.
In her latest instance of uncomfortable humor, Deen posted the shot to Facebook and Twitter with the caption, "Lucyyyyyyy! You got a lot of esplainin' to do! #TransformationTuesday," and Bobby's face painted a light shade of brown to resemble the Ricky Ricardo character (played by late Cuban-American legend Desi Arnaz on the TV classic).
Article continues below advertisement
On her Facebook page, Deen added, "We had so much fun on this episode, y'all."
Naturally, the inappropriate posts -- with obvious parallels to blackface minstrel shows -- brought instant feedback, and were quickly scrubbed from both accounts, though the viral damage had already been done.
RadarOnline.com has been on the forefront reporting revelations linked to Deen's downfall dating more than three years back, from the initial accusations of her bigoted statements; to her grovel-filled, inept handling of the career crisis; to the multiple race-based snafus that have occurred even AFTER the damage was done.
Last year alone, Deen's son Jamie called one black employee by the inappropriate nickname of "Jellyroll", while ads for a Savannah, Ga. based restaurant she owns used an image of a black woman reminiscent of a slavery-era planation worker referred to by historians as a "mammy figure."
Other celebs who've been in blackface scandals include reality star Kylie Jenner, and actor Ted Danson, whose cringeworthy look at a 1993 Friar's Club Roast -- coupled with an outrageously offensive "N-Word"-filled routine -- spurred a national scandal at the time.