Paula Deen Loved & Loathed: Dropped By More Businesses While Her Book Climbs To Number 1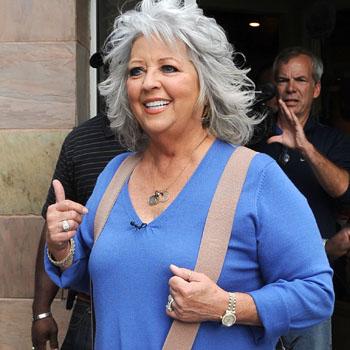 Some people love her and some people loathe her. But everyone, it appears, has a strong opinion about Paula Deen.
As controversy over her admitted use of a racial slur refused to go away, Deen was dropped by more businesses but her new cookbook shot up to Number 1 on Amazon – and it hasn't even been released!
Paula Deen's New Testament: 250 Recipes All Lightened Up (maybe not the greatest title in light of recent event?) has moved from Number 18 on Wednesday to the top slot on Thursday. At the beginning of the week the book wasn't in the top 1,000.
Article continues below advertisement
Her troubles began when former employee Lisa Jackson filed a lawsuit, alleging that Deen's brother routinely used racial slurs and viewed pornography at work, among other charges.
As RadarOnline.com reported, Jackson never heard Deen use the 'n' word. But Deen admitted she did use it in her deposition. And although she told Matt Lauer she used it only one time, her deposition seems to indicate she used it far more frequently as RadarOnline.com reported.
And she also testified that her husband told racist jokes in front of her.
Deen has been defended by her sons and friends but is still blocking the release of her videotaped deposition where she admits using the racial slur.